Wearable Conductive Fiber Sensors for Multi-Axis Human Joint Angle Measurements
Journal of NeuroEngineering and Rehabilitation
2005
2:7
Received: 31 December 2004
Accepted: 02 March 2005
Published: 02 March 2005
Abstract
Background
The practice of continuous, long-term monitoring of human joint motion is one that finds many applications, especially in the medical and rehabilitation fields. There is a lack of acceptable devices available to perform such measurements in the field in a reliable and non-intrusive way over a long period of time. The purpose of this study was therefore to develop such a wearable joint monitoring sensor capable of continuous, day-to-day monitoring.
Methods
A novel technique of incorporating conductive fibers into flexible, skin-tight fabrics surrounding a joint is developed. Resistance changes across these conductive fibers are measured, and directly related to specific single or multi-axis joint angles through the use of a non-linear predictor after an initial, one-time calibration. Because these sensors are intended for multiple uses, an automated registration algorithm has been devised using a sensitivity template matched to an array of sensors spanning the joints of interest. In this way, a sensor array can be taken off and put back on an individual for multiple uses, with the sensors automatically calibrating themselves each time.
Results
The wearable sensors designed are comfortable, and acceptable for long-term wear in everyday settings. Results have shown the feasibility of this type of sensor, with accurate measurements of joint motion for both a single-axis knee joint and a double axis hip joint when compared to a standard goniometer used to measure joint angles. Self-registration of the sensors was found to be possible with only a few simple motions by the patient.
Conclusion
After preliminary experiments involving a pants sensing garment for lower body monitoring, it has been seen that this methodology is effective for monitoring joint motion of the hip and knee. This design therefore produces a robust, comfortable, truly wearable joint monitoring device.
Keywords
Joint AngleSensor ArraySensor OutputKnee Flexion AngleWearable Sensor
Background
Long-term measurement of human movement in the field is an important need today [1]. For many types of rehabilitation treatment, it is desirable to monitor a patient's activities of daily life continuously in the home environment, outside the artificial environment of a laboratory or doctor's office [2]. This type of monitoring is quite beneficial to the therapist, allowing a better assessment of human motor control, and tremor or functional use of a body segment, over long periods of time [1]. Evaluating a patient's daily life activities allows a more reliable assessment of a patient's disabilities, and aids in developing rehabilitation treatments and programs, as well as assessing a treatment's effectiveness [2, 3]. In addition, the recognition of deviations in joint movement patterns is essential for rehabilitation specialists to select and implement an appropriate rehabilitation protocol for an individual [4, 5].
Many specific medical applications benefit from the information provided by continuous human movement monitoring. To better develop and optimize total joint replacements, for instance, a detailed record of a patient's daily activities after such a replacement is required [6]. The measurement of tremor and motor activity in neurological patients has long been studied [7]. In pulmonary patients, it is often desirable to precisely quantify the amount of walking and exercise performed during daily living, since this is a fundamental goal in improving physical functioning and life quality [3]. Furthermore, physiological responses, such as changes in heart rate or blood pressure, often result from changes in body position or activity, making the assessment of posture and motion an essential issue in any type of continuous, ambulatory monitoring [8].
Presently, there is no satisfactory solution for long-term, human movement monitoring in the field. The use of video and optical motion analysis systems offer the most precise evaluation of human motion, but obviously restrict measurements to a finite volume [9]. Body mounted sensors such as accelerometers and pedometers are used for monitoring daily physical activity, but those devices are unable to detect the body posture and are often limited in reliability and applicability [3, 7]. Even methods of self-report designed to gather information on general daily activity, such as diaries or questionnaires, are time consuming and often unreliable, especially for the elderly relying on their memory [3].
Electrogoniometers are frequently used to measure dynamic, multi-axis joint angle changes in individuals, providing continuous joint movement information. These devices, however, are not desirable for long-term monitoring of daily living, since they are exoskeletal devices that cross the joint, potentially interfering with movement. Furthermore, any shift from their original placement leads to errors in angle estimations [2]. Such commercially available goniometers can produce erratic readings once the device is detached from the patient body and put back on the same joint in a slightly different orientation. It is therefore difficult to use these goniometers at home for long periods of time.
Other types of goniometric devices have been developed for measuring particular parts of the body. Electronic gloves [10–13], for example, can measure the hand posture accurately, but are often cumbersome to wear for long periods of time. Various types of textile fabrics with integrated sensing devices have also been devised [14, 15]. In each of these cases, the sensing devices are traditional strain gauges, carefully attached to an article of clothing. One patented device uses conductive fabrics acting as strain gauges on a garment to emit "effects" such as light or sound based upon a wearer's movements [16]. While this is a novel wearable device, it is not designed, nor is suitable, for long-term accurate joint angle measurement.
For all types of body-mounted sensors, the issues of comfort and wearability are of major importance, if a patient has to wear the monitoring device for extended periods of time. Furthermore, such home-use wearable sensors need to be put on and off every day without close supervision of a medical professional. Proper registration of the sensor is therefore a crucial requirement for deploying wearable sensors to the home environment.
The goal of this paper is therefore to develop a new method for continuous monitoring of human movement by measuring single or multi-axis joint angles with a wearable sensing garment that is non-intrusive and non-cumbersome and that can be properly registered for reliable monitoring. A new method is presented here for joint monitoring using conductive fibers incorporated into comfortable, flexible fabrics. All that is needed is a one-time calibration with a standard goniometer, and a conductive fiber sensor garment is then able to continuously detect joint movement and measure specific single or multi-axis joint angles. With an array of sensors incorporated into a sensing garment, registration of the sensor occurs automatically each time the garment is worn through only a few simple motions by the wearer. This type of wearable sensor would allow extended home monitoring of a patient, and is no harder to put on than a typical article of clothing.
In the following, the principle and design details of this wearable device will be presented, along with effective algorithms for allowing a patient to perform long-term, unsupervised monitoring in the home environment. Experimental feasibility tests will also be presented on a prototype wearable sensor for both single-axis and multi-axis joints.
Results
All experiments have been conducted under a protocol approved by the Massachusetts Institute of Technology Committee on the Use of Humans as Experimental Subjects (Approval No. 0411000960).
Discussion
For continuous joint monitoring, it should be noted that there are at least three fundamental sources of uncertainty in sensor output. The resistance measures across a section of conductive fiber, while ideally linearly related to length, may differ from an expected value due to the following factors: 1) movement of the fiber across the wire contact point may affect sensor output due to uncertainty in the area being contacted, and dynamic effects of the constant rubbing action; 2) although the elastic cord takes up a majority of the sensor tension, slight changes will also take place in the fiber tension as the joint is moved, and this will affect fiber resistance; and 3) different sections of even the same fibers will exhibit slightly different resistance characteristics due to the slightly inhomogeneous nature of such fibers. In spite of all these sources of uncertainty, it is still possible to accurately calibrate a set of sensors, and achieve acceptable joint measurements with minimal errors. These effects are minimized through careful selection of the particular fibers used as sensors, and in manufacturing the garment.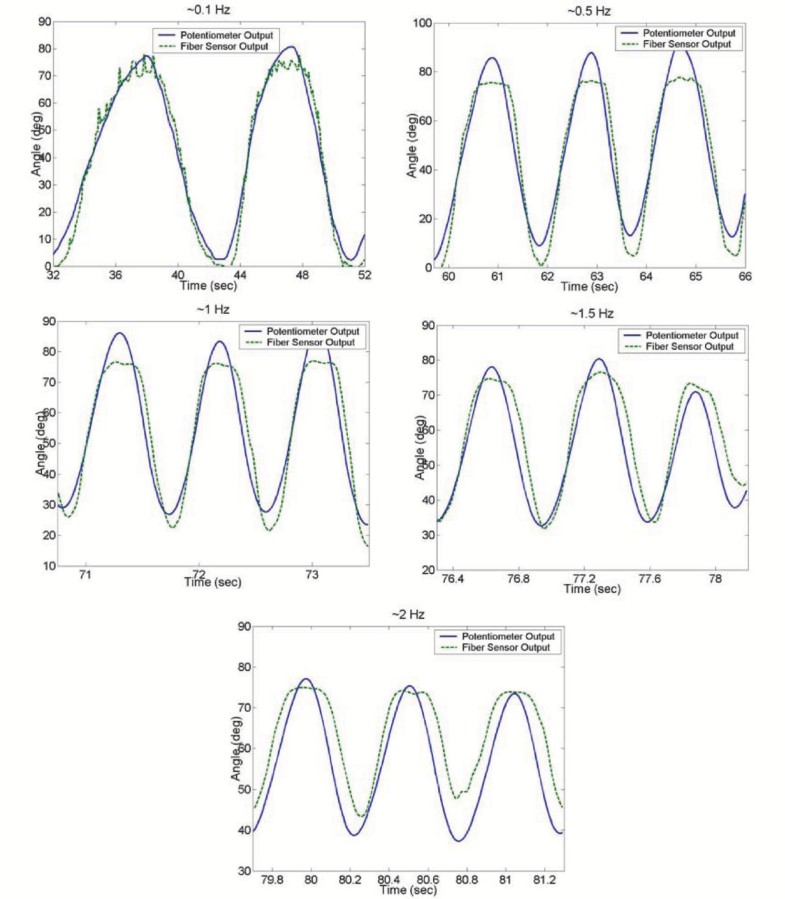 While two specific predictor models have been presented for the calibration of a set of sensors, there are of course many more candidates that could be used as well. The linear and quadratic models used in this paper were the simplest choices, and the experimental results showed no advantage to adding more terms. Doing so only increased the computational requirements unnecessarily. This is why the models were presented as they were.
A few more words should also be said about the registration algorithm. As presented, this algorithm only accounts for shifting of a set of sensors in one direction (particularly, in the "horizontal" direction). It is felt that this is appropriate due to the construction of the sensing garment. With the sensors instrumented in a "vertical" fashion, the user is responsible for visually checking that they put the garment on with no twist. This is relatively easy to do with the fibers oriented vertically. Furthermore, as long as the sensors span well beyond the local effects of skin movement around a joint, small shifts in the vertical direction will theoretically have little to no effect on the sensor output. Requiring a patient to "zero" the sensor output with all joints in the 0° position each time the garment is worn further eliminates any errors due to sensor drift.
Finally, the wearability of the pants sensing garment must be addressed. What makes this sensing garment "more wearable" than existing joint measurement devices is that it is simply a pair of pants that people already wear on a regular basis.
The extra sensors and wires added to these pants are compact and lightweight, almost negligible to the wearer. These sensors are easy to use, requiring much less skill and carefulness by the user, in general, than a typical goniometer.
Conclusion
A wearable joint movement sensor design has been presented that uses conductive fibers incorporated into a fabric that is form fitting to a joint. Resistance changes in the fibers caused by fiber movement as the joint is moved can be related to angular joint position. Using multiple fiber sensors, multi-axis joint angles can be determined, in addition to single-axis angles, after a one-time calibration procedure performed by a therapist/physician. Implementing a nonlinear predictor model, continuous joint angle measurements can be made during daily activities, with the sensor able to be taken off and put back on at any time with no need for manual recalibration. Sensor offsets due to misregistration can be accounted for through the use of a sensor array spanning the joints of interest. This allows the sensors to self-calibrate, with only a few simple motions of the patient.
After preliminary experiments involving a pants sensing garment for lower body monitoring, it has been seen that this methodology is feasible for monitoring joint motion of the hip and knee. Multiple sensor arrays are used at multi-d.o.f. joints, where each sensor output is coupled to multiple joint angle changes. This design therefore produces a robust, comfortable, truly wearable joint monitoring device. This paper outlines the development of this sensor from initial idea to working prototype. Future effort is needed in developing a completely wearable, highly accurate sensor, though. This would include making the sensors wireless, and therefore "tether-free." More precise textile manufacturing techniques would also be needed to further reduce measurement errors.
Declarations
Acknowledgements
This material is based upon work supported by the National Science Foundation under Grant: NSF 0097700.
Authors' Affiliations
(1)
Department of Mechanical Engineering, Massachusetts Institute of Technology, Cambridge, USA
References
Luinge HJ, Veltink PH: Inclination Measurement of Human Movement Using a 3-D Accelerometer With Autocalibration. IEEE Transactions on Neural Systems and Rehabilitation Engineering 2004.,12(1):Google Scholar
Veltink PH, Bussmann HBJ, de Vries W, Martens WLJ, Van Lummel RC: Detection of Static and Dynamic Activities Using Uniaxial Accelerometers. IEEE Transactions on Rehabilitation Engineering 1996,4(4):375-385. 10.1109/86.547939View ArticlePubMedGoogle Scholar
Steele BG, Belza B, Cain K, Warms C, Coppersmith J, Howard J: Bodies in motion: Monitoring daily activity and exercise with motion sensors in people with chronic pulmonary disease. Journal of Rehabilitation Research and Development 2003,40(5 Suppl 2):45-58.View ArticlePubMedGoogle Scholar
Norkin CC, White DJ: Measurement of Joint Motion A Guide to Goniometery. Philadelphia: FA Davis Company; 1995.Google Scholar
Trew M: Human Movement: An Introductory Text. Fourth edition. Edinburgh: Churchill Livingstone; 2001:143-151.Google Scholar
Morlock M, Schneider E, Bluhm A, Vollmer M, Bergmann G, Muller V, Honl M: Duration and frequency of every day activities in total hip patients. Journal of Biomechanics 2001, 34: 873-881. 10.1016/S0021-9290(01)00035-5View ArticlePubMedGoogle Scholar
Bouten CVC, Koekkoek KTM, Verduin M, Kodde R, Janssen JD: A Triaxial Accelerometer and Portable Data Processing Unit for the Assessment of Daily Physical Activity. IEEE Transactions on Biomedical Engineering 1997.,44(3):Google Scholar
Foerster F, Smeja M, Fahrenberg J: Detection of posture and motion by accelerometry: a validation study in ambulatory monitoring. Computers in Human Behavior 1999, 15: 571-583. 10.1016/S0747-5632(99)00037-0View ArticleGoogle Scholar
Mayagoitia RE, Nene AV, Veltink PH: Accelerometer and rate gyroscope measurement of kinematics: an inexpensive alternative to optical motion analysis systems. Journal of Biomechanics 2002, 35: 537-542. 10.1016/S0021-9290(01)00231-7View ArticlePubMedGoogle Scholar
Dipietro L, Sabatini AM, Dario P: Evaluation of an instrumented glove for hand-movement acquisition. Journal of Rehabilitation Research and Development 2003,40(2):179-190. 10.1682/JRRD.2003.03.0181View ArticlePubMedGoogle Scholar
Kramer JF, George WR, Lindener P: Strain-Sensing Goniometers, Systems and Recognition Algorithms. 2000. United States Patent 6,035,274.Google Scholar
McGorry RW, Chang C-C, Dempsey PG: Wrist Motion Measurement Device. 2003. United States Patent 6,651,352 B2.Google Scholar
Williams N, Miles J, Penrose T, Hollands R, Barker AT: Glove For Making Goniometric Measures. 2001. United States Patent 6,325,768 B1.Google Scholar
Lebby MS, Jachimowicz KE, Ramdani J: Textile Fabric with Integrated Sensing Device and Clothing Fabricated Thereof. 2001. United States Patent 6,080,690.Google Scholar
Edwards EFR: Improvements Relating to Joint Monitoring Devices. 1995. International Patent WO 95/05269.Google Scholar
Smela E: Wearable Effect-Emitting Strain Gauge Device. 2002. United States Patent 6,360,615.Google Scholar
Corbman BP: Textiles: Fiber to Fabric. Volume 382. Fifth edition. USA: McGraw-Hill; 1975:461-472.Google Scholar
Copyright
© Gibbs and Asada; licensee BioMed Central Ltd. 2005
This article is published under license to BioMed Central Ltd. This is an Open Access article distributed under the terms of the Creative Commons Attribution License (http://creativecommons.org/licenses/by/2.0), which permits unrestricted use, distribution, and reproduction in any medium, provided the original work is properly cited.