Modular mechatronic system for stationary bicycles interfaced with virtual environment for rehabilitation
Journal of NeuroEngineering and Rehabilitation
2014
11:93
Received: 1 March 2013
Accepted: 24 April 2014
Published: 5 June 2014
Abstract
Background
Cycling has been used in the rehabilitation of individuals with both chronic and post-surgical conditions. Among the challenges with implementing bicycling for rehabilitation is the recruitment of both extremities, in particular when one is weaker or less coordinated. Feedback embedded in virtual reality (VR) augmented cycling may serve to address the requirement for efficacious cycling; specifically recruitment of both extremities and exercising at a high intensity.
Methods
In this paper a mechatronic rehabilitation bicycling system with an interactive virtual environment, called Virtual Reality Augmented Cycling Kit (VRACK), is presented. Novel hardware components embedded with sensors were implemented on a stationary exercise bicycle to monitor physiological and biomechanical parameters of participants while immersing them in an augmented reality simulation providing the user with visual, auditory and haptic feedback. This modular and adaptable system attaches to commercially-available stationary bicycle systems and interfaces with a personal computer for simulation and data acquisition processes. The complete bicycle system includes: a) handle bars based on hydraulic pressure sensors; b) pedals that monitor pedal kinematics with an inertial measurement unit (IMU) and forces on the pedals while providing vibratory feedback; c) off the shelf electronics to monitor heart rate and d) customized software for rehabilitation. Bench testing for the handle and pedal systems is presented for calibration of the sensors detecting force and angle.
Results
The modular mechatronic kit for exercise bicycles was tested in bench testing and human tests. Bench tests performed on the sensorized handle bars and the instrumented pedals validated the measurement accuracy of these components. Rider tests with the VRACK system focused on the pedal system and successfully monitored kinetic and kinematic parameters of the rider's lower extremities.
Conclusions
The VRACK system, a virtual reality mechatronic bicycle rehabilitation modular system was designed to convert most bicycles in virtual reality (VR) cycles. Preliminary testing of the augmented reality bicycle system was successful in demonstrating that a modular mechatronic kit can monitor and record kinetic and kinematic parameters of several riders.
Keywords
Virtual RealityVirtual EnvironmentInertial Measurement UnitFunctional Electrical StimulationExercise Bicycle
Background
Cycling has been used in the rehabilitation of individuals with both chronic conditions such as stroke [1, 2], multiple sclerosis (MS) [3] and chronic obstructive pulmonary disease [4] as well as post-surgical populations such as heart [5], hip [6] and knee surgery. The proposed and partially documented benefits of cycling are many and include improved aerobic fitness [5, 7], increased muscle strength [1, 8, 9] and even transfer to other activities such as walking [7, 8]. Cycling has been performed in isolation, or in combination with electrical stimulation [1, 7, 8], and augmented with virtual reality [10].
A classic presentation for individuals with both chronic and post-surgical conditions is lower limb asymmetries in strength, coordination and functional use. These asymmetries have been documented for individuals with MS [11] and unilateral total hip replacement [12]. Asymmetries have also been identified in stair climbing for individuals with osteoarthritis (OA) of the knee that are asymptomatic [13]. Furthermore, when individuals with motor control asymmetries bicycle for rehabilitation they do so with an asymmetrical pattern. This has been shown for various populations such as individuals with anterior cruciate ligament deficiency [14] as well as individual post-stroke [15]. These difficulties are in part reversed when cycling is coupled with functional electrical stimulation (FES). However, provision of FES is not always possible. Therefore, among the challenges with implementing bicycling for rehabilitation is the recruitment of both extremities, in particular when one is weaker or less coordinated.
Feedback in the form of virtual reality augmented cycling may serve to address the requirement for efficacious cycling; specifically recruitment of both extremities. Bicycling systems interfaced with virtual reality augmentation are few. They have been used to improve sitting balance and symmetry [16] and assessed for their psychological benefits to the riders [10]. A bicycling system augmented by virtual reality has not been used however to promote limb symmetry.
Innovations in bicycle hardware have facilitated a more realistic cycling experience by increasing the range of motion of the stationary bicycle or handles [17–22]. Mechanical linkages and dampers allow the handles and bike frame to lean in the coronal and transverse planes to simulate uneven rocky terrain. Developments to address interfacing existing exercise equipment with a computer or electronic device to either translate the rider's actions as an all-purpose controller or specifically copy their motions into a virtual environment using selected gains have been reported in [23–25]. Heart rate as a surrogate for the rider's level of exertion has been used in isolation to control the difficulty of a game interfaced with the bicycle [26]. The interfacing of a Virtual Environment (VE) with bicycle however, has not been approached from a multi-modal perspective where physiological and biomechanical measurements are combined and applied to impaired participants.
Instrumented bicycle pedals have been used in evaluating kinetic/kinematic capabilities for subjects with both healthy and plegic lower extremities [27–31]. Experimental setups for pedal force sensing have involved a variety of strain-gauge based designs [32] and piezoelectric elements [30, 33]. Using an inertial measurement unit (IMU) for detecting pedal angle has not been used before in a clinical setting for stroke rehabilitation. In stationary bicycle pedals the most frequent angle detection methods have been mechanical [34] or optical-encoder based [20, 27]. An IMU requires no hardware linkage connections which means decreased mechanical complexity and likelihood of component failing.
Adding games to stationary bikes has been used to create several virtual reality cycling systems [17, 18]. These systems were designed for fitness of active individuals, rather than rehabilitation of fitness and motor control deficits of individuals with disabilities. Representative existing systems are prohibitively expensive for a rehabilitation population and provide insufficient feedback to the user. Those systems with proprietary software have the potential to transmit exercise information to the screen and to store information, while others can only drive existing games, controlling only speed or direction. While these systems can perform well for healthy individuals, most of them are too expensive for small clinics and homes.
Although there has been extensive design evolution on bike pedal instrumentation, there has been limited research on incorporating handle bar sensors alongside the pedal sensors for assessing the gripping forces. Furthermore, there are no sensorized exercise bicycle systems that are modular and have the capability of using physiological (heart rate) and biomechanical (kinetics and kinematics) inputs to drive a virtual environment while at the same time collecting performance data. Evaluation of the current commercially comparable devices necessitates a low cost, state of the art system with diverse measurement functionality, immersion, and adaptability to any current stationary bicycle.
In this paper the Virtual Reality Augmented Cycling Kit (VRACK), a virtual reality mechatronic bicycle rehabilitation system is presented. VRACK was designed as a modular system that can convert most bicycles into virtual reality (VR) cycles. Novel hardware components embedded with sensors were implemented on a stationary exercise bicycle to integrate physiological and biomechanical parameters of participants immersed in a virtual environment (VE) providing the user with visual, auditory and haptic feedback. This modular and adaptable system attaches to commercially-available stationary bicycle systems and interfaces with a personal computer for simulation and data acquisition processes. Among the attributes of the VRACK is bike navigation task in which force transducers in the pedals are linked to the verticality of the rider, specifically designed to promote symmetry. In addition heart rate monitoring and feedback are used to promote exercise intensity suitable for health and fitness.
Results
The modular mechatronic kit for exercise bicycles was tested in bench testing and rider tests. Results from these tests are described in this section.
Bench tests
Sensorized handlebar dynamic testing
The sensorized handlebars were calibrated first and then evaluated for dynamic testing using a simple one degree of freedom device where a linear actuator was applying a known, controllable force on the handlebar as shown in Figure
9
. The linear dynamometer testbed can apply a static or dynamic force profile using an electromagnetic actuated Servotube (XSL-230-18, Copley Controls, MA) to deliver a compression force to the sensorized unit under testing, with an off-the shelf tensile load cell (Omega Engineering, Stamford, CT) in series for measuring applied input force. The linear actuator was under position or force control depending on the experiments performed. The calibration was carried out by correlating the input force as recorded by the load cell against the output of the handlebar sensors.To validate the calibration procedure of the handlebars we performed a series of dynamic tests that included various periodic force patterns such as sinusoid, square, and sawtooth with varying amplitudes (between 2 and 30 N) and frequencies (between 0.4 to 4 Hz). Each dynamic test lasted 1 minute and the handle was allowed 1 minute between trials to rest. Sample data series obtained from these tests are shown in Figure
10
. The data collected using the handlebar sensor matched very well the force curves obtained using the load cell of the test-bed as shown in Figure
10
.In addition, we performed a manual test to verify the ability of the handlebar to measure the forces applied by a human subject. With the handlebar still on the testbed, a load profile was applied by hand from a healthy adult male with no previous upper extremity physical deficits. The manual input was a load applied to the servotube by pulling the tension load cell in series with the hydraulic handle. As shown in Figure
11
, the forces measured by the handlebar sensor match very closely those measured by the load cell of the testbed.



Pedal static force tests
The Pedal assembly was calibrated and then validated using static loading conditions for compressive and tensile force measurement (420 N, 120 N) as shown in Figure
12
. For compression testing the pedal was mounted via a pin joint to a crank arm and weights hung underneath, with a rigid bar contacting the footplate surface. This setup was important to also assess the impact of the moment bending on the crank raceway. The load was incrementally increased taking into account the weight of the rigid bar and chains. For tension the pedal was reversed and the load was applied to the ventral surface of the bindings just as in application of the 'lifting' force during the upstroke. Weights were allowed 30 seconds to settle once loaded, and between loads the resting voltage was also measured to check for drift. Results from these calibration tests, shown in Figure
13
, are averaged for 4 loading trials per pedal.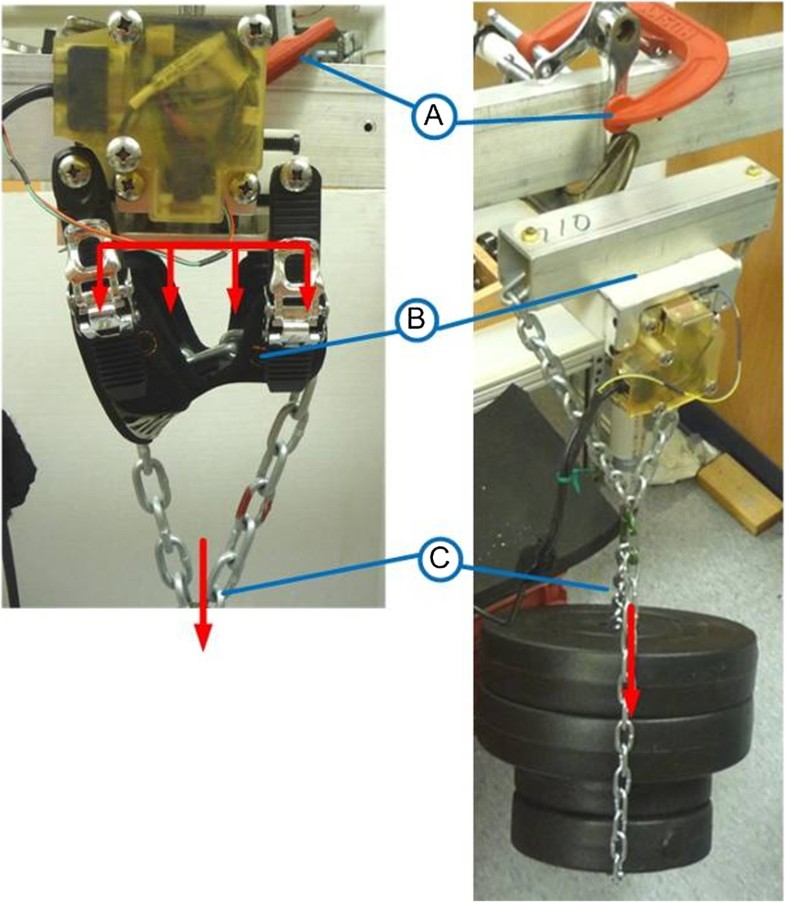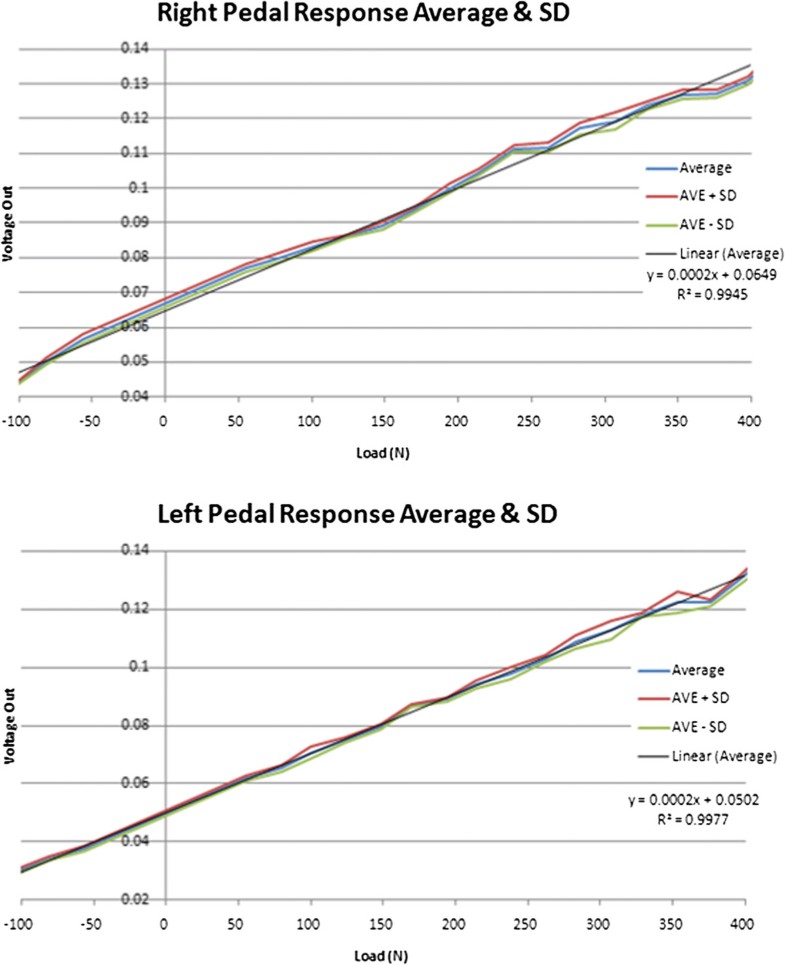 IMU Calibration and validation using a specially design testbed
A testbed was built for calibrating and validating the pedal IMU as shown in Figure
14
. The test-bed is a two-degree of freedom structure similar to a universal joint. The IMU is placed on a platform in the middle of the structure while each one of the revolute joints is equipped with a servo motor for applying controllable angular motions at this joint and a rotary potentiometer for measuring the joint's angular position and velocity. An Arduino Duemilanove microcontroller (
http://www.arduino.cc
) was added to the assembly to control the servomotors and to collect data from the IMU and rotary potentiometers.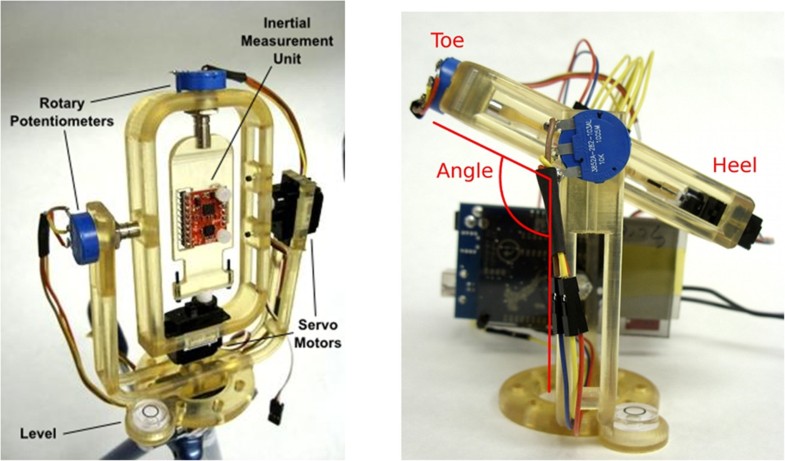 In calculating the angle of the pedal the signals needed from the 5 DOF IMU were those from the X and Z accelerometers and the Y gyroscope. A Kalman filter algorithm used the accelerometer and gyroscope readings to provide an estimate of the pedal angle based on the method presented in [
40
]. Figure
15
shows an example of the IMU validation tests. The IMU readings/Kalman filter algorithm produced pedal angles that matched very accurately those measured independently by the potentiometer on the IMU test bed.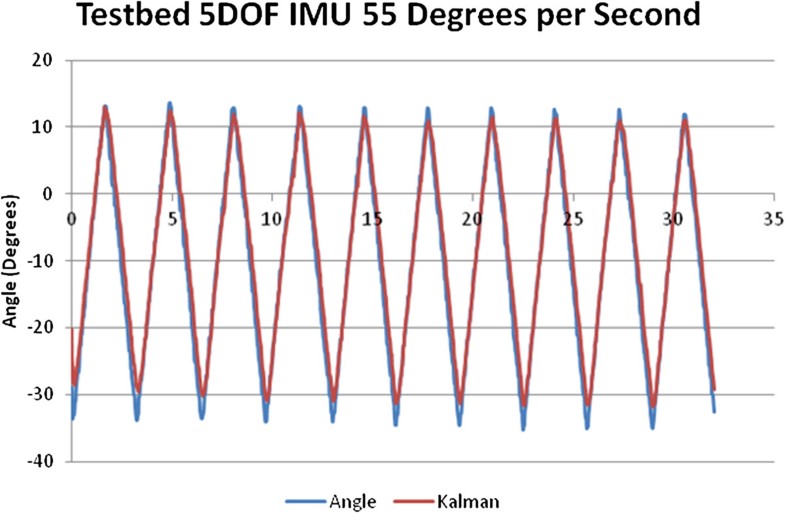 Rider testing
Characterization of the VRACK instrumentation beyond bench testing is necessary to validate both the hardware and the software with individuals riding the bicycle. In this paper we present data obtained from the instrumented pedals when they were manually moved and with individuals riding the bicycle. In a recent study we have also validated VE features such as optic flow effects on riders cycling performance [42].
The focus of the rider experiments presented in this section was to validate the data (i.e. pedal angle and pedal forces) obtained using the left and right instrumented pedals during a cycling session. During these experiments we concurrently collected kinematic data with both the VRACK IMU and a Peak Motus motion capture system and compared them. Kinetic data were collected using the pedal force sensors and compared with similar data reported in literature.A six camera Peak Motus motion capture system was used to record the kinematics at 60 Hz during pedaling on a recumbent bicycle (Biodex, SRC). Simultaneously the VRACK system collected the data from the bicycle's pedal IMU at 100 Hz using a real-time Labview program as described in Figure 4. Data from the Peak were re-sampled to 100Hz to match the IMU sampling frequency. Data were synchronized by matching the peak pedal angle with the first five seconds of the trial. The pedal marker data from the Peak Motus system were used to measure the pedal orientation and cycling RPM. The marker data were processed and gaps were filled using smoothing spline function post collection. The orientation of the line joining the marker in the front and back of the pedal was calculated to obtain the pedal angle. The data from the VRACK system were analyzed to extract the pedal orientation and forces.
Experiment 1 - hand driven pedal motions
The bike pedals were instrumented with three markers each on the front, middle and back. The middle marker had an extension so it would not be obscured by the front and back markers. The experimenter knelt on the left side of the bike and slid his hand into the right pedal when collecting data for the right pedal. The crank was placed at top dead center. Data were collected in two separate trials for each pedal. The pedal was turned manually, clockwise three times, and then counter clockwise three times, from 0–90 degrees in one trial and then from 0–45 degrees in a second trial. The same procedure was repeated for the other pedal. There was good agreement between the pedal angles measured by the Peak and the IMU on the VRACK as shown in Figure
16
.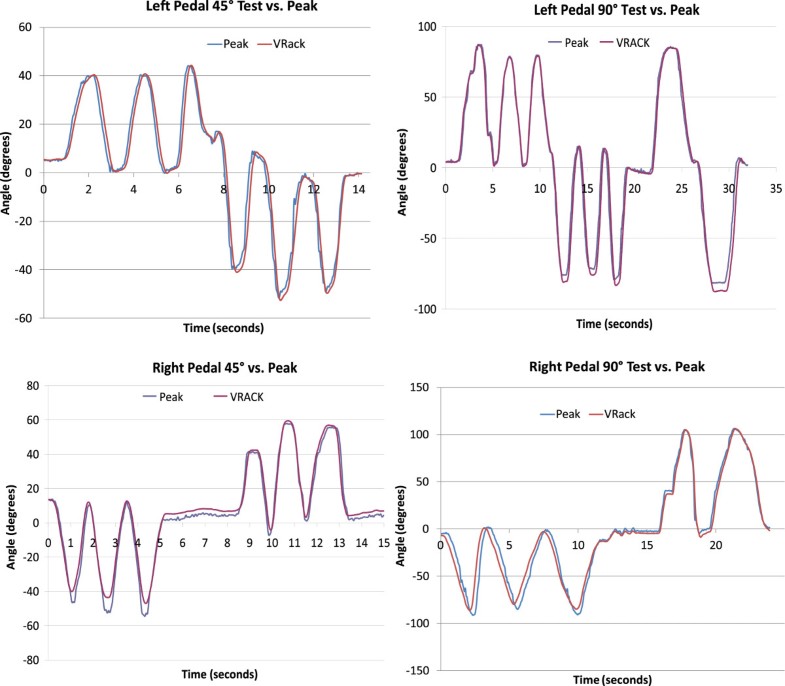 Experiment 2 - riders biking in the VE
Five healthy participants (18–35 years) without any mobility, functional, or cardiovascular disorders provided their informed consent and participated in the study. The study was approved by the Institutional Review Board at the UMDNJ.
Following an orientation to the protocol, subjects were seated on the bike and positioned with 50 degrees of knee flexion when the pedal was at bottom dead center and parallel to the ground. The power on the bike was set to a constant 20 watts. Subjects warmed up by pedaling at a comfortable speed for 3 minutes. They were instructed to pedal at their slow and comfortable speeds, keeping both hands on the handle-bars, and looking in front of them. Pedals were instrumented with three reflective pedal markers; one each on the center, back, and front lateral edge of each pedal. Data were collected for three trials of thirty to forty-five seconds each.
A representative result is shown in Figure
17
where left pedal angles during a rider's slow pedaling (30 RPM) are measured using the VRACKs' IMU and the PEAK system. Both measurements demonstrate good agreement as shown below. Representative results from the forces collected by the VRACK are presented in Figure
18
. The forces generated while the subject pedaled at 55 RPM indicate good correspondence between the two sides. The pattern of pedal forces is comparable but the magnitude of the pedal forces is lower than those reported in the literature [
43
,
44
]. The forces collected from VRACK showed a peak force of approximately 115 N (25 pounds as shown in the figure) when pedalling at 30 RPM with a workload of 20 Joules. In [
43
], where the authors used a more upright cycle and higher workload, reported, a peak pedal force of approximately 190 N when pedaling at 25 RPM with a workload of 80 J. Although in [
44
] the authors used a recumbent bike their participants were adolescents who cycled at a higher RPM (60) and they reported peak pedal forces of approximately 200 N. The magnitude of pedal forces generated in this setup were slightly smaller compared to [
43
] due to seating on the recumbent cycle and lower power setting used for the study. Therefore the lower peak forces collected on the VRACK can be explained by lower workloads, cycling speed and rider-to-bike biomechanics.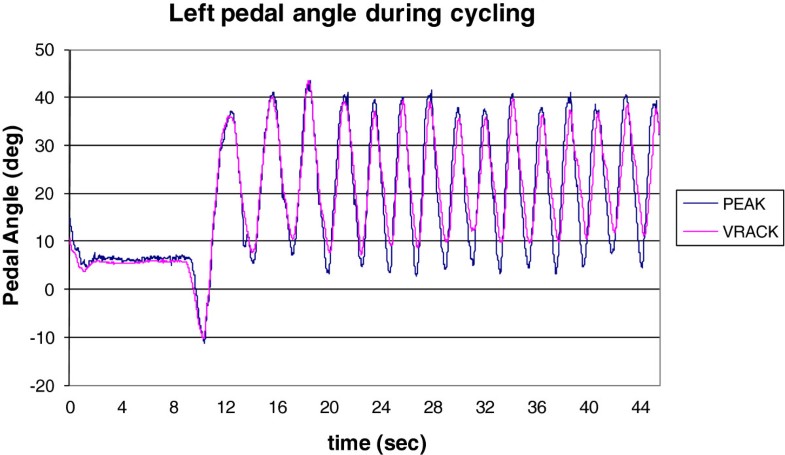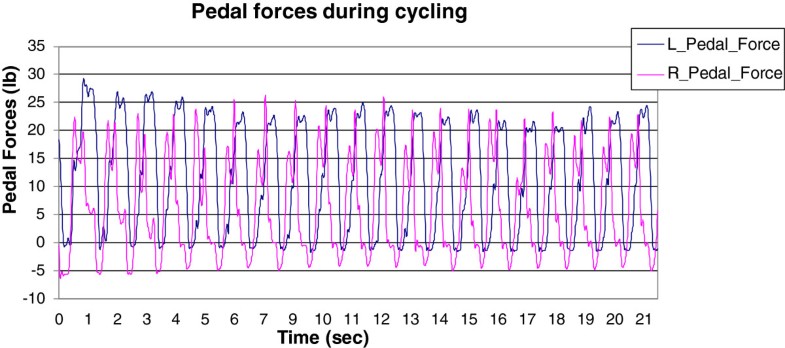 Conclusions
In this paper the virtual reality augmented cycling kit (VRACK), a mechatronic rehabilitation system with an interactive virtual environment, was presented. VRACK consists of sensorized pedals, handlebars and a heart rate monitor interfaced with a virtual biking environment. VRACK was designed to benefit users with riding asymmetry by using quantitative measures to dynamically direct their attention. Work with individuals post-stroke who are present with fitness deficits and riding asymmetry is underway and the preliminary findings are encouraging [45].
VRACK and its modules offer several possibilities to augment existing home-based exercise equipment or used separately as stand-alone modules depending on what exercise is prescribed. The hydraulic chamber design of the handles could also be separated into smaller arrays of sensing regions to monitor more surfaces across the hands for either healthy or impaired individuals. For low ranges of upper extremity loading it could function as a computer interface/virtual reality device or dexterity training tool. For medium ranges of loading the design can be modified to map force distribution for power grasping pull tasks like lifting a briefcase or moving objects.
The VRACK system includes signals from 15 different sensors. This large number of sensors necessitates the need for robust signal acquisition hardware and software with proper filtering. Making the handle and pedal modules wireless will ease installation and reduce potential tripping hazard from the tethered modules. This will also be pragmatic for groups of VRACK systems to operate side by side for group exercise sessions in a clinical setting. Ultimately the VRACK's relevance will be established when riders can modify their cycling kinetics from asymmetrical to symmetrical patterns, improve their fitness and more importantly transfer the benefits from training in the VE to real world mobility.
Declarations
Acknowledgements
This work was supported by the National Institutes of Health (NIH) with the grant R41 HD54261 (PI Judith Deutsch). The authors would like to thank Mr. Alan Argodizza for participating in the development of the testbed for IMU calibration and validation.
Authors' Affiliations
(1)
Biomedical Mechatronics Laboratory, Department of Mechanical & Industrial Engineering, Northeastern University, Boston, USA
(2)
VRehab LLC, Jersey City, USA
(3)
Department of Rehabilitation and Movement Sciences, Rutgers Biomedical and Health Sciences, RiVERS (Research in Virtual Environments & Rehabilitation Sciences) Laboratory, Newark, USA
Copyright
© Ranky et al.; licensee BioMed Central Ltd. 2014
This article is published under license to BioMed Central Ltd. This is an Open Access article distributed under the terms of the Creative Commons Attribution License (http://creativecommons.org/licenses/by/2.0), which permits unrestricted use, distribution, and reproduction in any medium, provided the original work is properly credited.