Setting the pace: insights and advancements gained while preparing for an FES bike race
Journal of NeuroEngineering and Rehabilitation
2017
14:118
Received: 12 April 2017
Accepted: 30 October 2017
Published: 17 November 2017
Abstract
The reduction in physical activity following a spinal cord injury often leads to a decline in mental and physical health. Developing an exercise program that is effective and enjoyable is paramount for this population. Although functional electrical stimulation (FES) stationary cycling has been utilized in rehabilitation settings, implementing an overground cycling program for those with spinal cord injuries has greater technical challenges. Recently our laboratory team focused on training five individuals with compete spinal cord injuries utilizing an implanted pulse generator for an overground FES bike race in CYBATHLON 2016 held in Zurich, Switzerland. The advancements in muscle strength and endurance and ultimately cycling power our pilots made during this training period not only helped propel our competing pilot to win gold at the CYBATHLON 2016, but allowed our pilots to ride their bikes outside within their communities. Such a positive outcome has encouraged us to put effort into developing more widespread use of FES overground cycling as a rehabilitative tool for those with spinal cord injuries. This commentary will describe our approach to the CYBATHLON 2016 including technological advancements, bike design and the training program.
Keywords
Spinal cord injuryCYBATHLONFunctional electrical stimulationCycling; exercise
Background
It is estimated that there are 282,000 individuals currently living with spinal cord injury (SCI) in the United States, with 17,000 new cases every year. Following their injury these individuals experience very unique physical, social and psychological changes resulting from decreased ability to perform activities of daily living and exercise. This often leads to secondary complications including: musculoskeletal decline, bone and joint disease, heart disease, altered lipid profiles, arterial circulatory insufficiency, clotting disorders and more; for a review see [1]. In addition, those with SCI are also at greater risk for poor mental health including depression [2]. Finding a means to implement exercise in this population is paramount, but has been limited to specialized gyms and restricted to upper body exercise. Stationary functional electrical stimulation (FES) cycling systems are commercially available and have been utilized as an exercise modality. To date the prominent mode of outdoor recreational cycling for those with SCI is hand cycling with a smaller percentage of the population utilizing a hybrid arm-leg FES cycling and more recently a commercially available mobile recumbent bike was introduced to the market in 2005 by Hasomed (Magdeburg, Germany). However the technical challenges and efficacy of stimulation-powered overground cycling have yet to be fully resolved. For example, the low peak powers produced with FES cycling (approximately 25 watts) are not enough to overcome rough surfaces, slight inclines or headwinds that are often encountered during outdoors cycling. Participation in the FES bike race at the CYBATHLON 2016 in Zurich, Switzerland catalyzed a renewed interest and motivation within our laboratory team to develop an overground cycling program for individuals with SCI. Over the course of this commentary we will describe the obstacles, tangible outcomes and reflections from participating in this event.
Conclusion
Reflection on the CYBATHLON 2016 experience
In the setting of the CYBATHLON, we saw the bicycle as a machine that provides a tangible path to self-improvement and independence. The instant acceptance and use of the technology was a surprise to our research team members and pilots alike. In rehabilitation research, we are often faced with the realization that the techniques and technologies we develop will help move someone a step forward in their physical well-being and independent personal, professional or societal function, but the advances are small and hard-fought. In the case of implant-driven cycling after spinal cord injury, the payoff was tangible, immediate and profound. The benefits were demonstrable as the pilots rode the bikes under their own power and speed, without handcranks or motors, making it easy to forget they were paralyzed from the chest down. The competition galvanized our attention and enabled us to think creatively and work collaboratively with our pilots outside of the rigor of hypothesis driven research to achieve these goals. The most exciting aspect of the CYBATHLON cycling experience was that it provided a means for the pilots to take the systems home and train with them outside on their own. During this time they rode down streets to grab a cup of coffee, they rode with friends through their neighborhoods, and they even rode with their families in national parks (Fig.
7
). In so doing, they rode a bit closer to health and independence, and we all rode closer to a deeper understanding of the potential of implanted assistive technologies.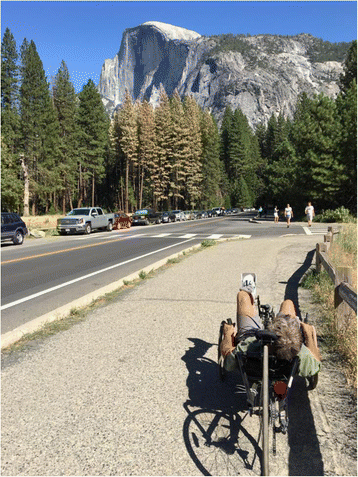 Abbreviations
ECU:

External control unit
FES:

Functional electrical stimulation
IPB:

Implanted pulse generator
Declarations
Acknowledgements
We would like thank the following individuals for their support on this project. Musa Audu, J. Barber, E. Cikanek, A. Cornwell, D. Crago, J. French, V. Huynh, R. Kobetic, M. McClellan, J. Lee, M. Moynahan, M. Muhn, M. Nandor, S. Nogan-Bailey, B. Orzell, J. Schnellenberger.
Funding
We would like to thank the following organizations for their support for this project.
U.S. Department of Veterans Affairs – Rehabilitation Research and Development Service, Washington DC.
Advanced Platform Technology Center – Louis Stokes Cleveland VA Medical Center, Cleveland, Ohio.
Case Western Reserve University School of Engineering, Cleveland, Ohio.
MetroHealth Medical Center – Departments of Orthopedics and PM&R, Cleveland, Ohio.
University Hospitals – Department of Orthopedics, Cleveland, Ohio.
NIH – National Institute of Neurological Disorders and Stroke, Bethesda, Maryland.
Cleveland VA Medical Research and Education Foundation, Cleveland, Ohio.
Catrike, Orlando, Florida.
City of Cleveland Heights.
Center for Global Health Innovations, Cleveland, Ohio.
Laboratory for Bionic Integration, Department of Biomedical Engineering, Lerner Research Institute, Cleveland Clinic, Cleveland, Ohio.
Topolino Technologies, Bethel, Connecticut.
Availability of data and materials
N/A
Authors' contributions
All authors contributed to the writing of this manuscript and contributed to various aspects of this project. RT managed the project. JM, LL and KF developed the training program and worked with the pilots. PM modified the bike. RT, PM, LL and KF assisted the pilot at the CYBATHLON. All authors read and approved the final manuscript.
Ethics approval and consent to participate
All procedures were approved the IRB at the Cleveland Louis Stokes Veterans Affairs Medical Center. All subjects signed consent to participate forms.
Consent for publication
Subjects provided their consent to publish their pictures and data.
Competing interests
The authors declare that they have no competing interests.
Publisher's Note
Springer Nature remains neutral with regard to jurisdictional claims in published maps and institutional affiliations.
Open AccessThis article is distributed under the terms of the Creative Commons Attribution 4.0 International License (http://creativecommons.org/licenses/by/4.0/), which permits unrestricted use, distribution, and reproduction in any medium, provided you give appropriate credit to the original author(s) and the source, provide a link to the Creative Commons license, and indicate if changes were made. The Creative Commons Public Domain Dedication waiver (http://creativecommons.org/publicdomain/zero/1.0/) applies to the data made available in this article, unless otherwise stated.
Authors' Affiliations
(1)
Advanced Platform Technology Center, Louis Stokes Cleveland Veterans Affairs Medical Center, Cleveland, USA
(2)
Exercise Science Program, Kent State University, Kent, USA
(3)
Laboratory for Bionic Integration, Department of Biomedical Engineering, Lerner Research Institute, Cleveland Clinic, Euclid, USA
(4)
Orthopedics and Biomedical Engineering, Case Western Reserve University, Euclid, USA