Detecting intention to walk in stroke patients from pre-movement EEG correlates
Journal of NeuroEngineering and Rehabilitation
2015
12:113
Received: 29 April 2015
Accepted: 23 October 2015
Published: 12 December 2015
Abstract
Background
Most studies in the field of brain-computer interfacing (BCI) for lower limbs rehabilitation are carried out with healthy subjects, even though insights gained from healthy populations may not generalize to patients in need of a BCI.
Methods
We investigate the ability of a BCI to detect the intention to walk in stroke patients from pre-movement EEG correlates. Moreover, we also investigated how the motivation of the patients to execute a task related to the rehabilitation therapy affects the BCI accuracy. Nine chronic stroke patients performed a self-initiated walking task during three sessions, with an intersession interval of one week.
Results
Using a decoder that combines temporal and spectral sparse classifiers we detected pre-movement state with an accuracy of 64 % in a range between 18 % and 85.2 %, with the chance level at 4 %. Furthermore, we found a significantly strong positive correlation (r = 0.561, p = 0.048) between the motivation of the patients to perform the rehabilitation related task and the accuracy of the BCI detector of their intention to walk.
Conclusions
We show that a detector based on temporal and spectral features can be used to classify pre-movement state in stroke patients. Additionally, we found that patients' motivation to perform the task showed a strong correlation to the attained detection rate of their walking intention.
Keywords
EEGStrokeGait rehabilitationBCIMRCPERD
Introduction
Stroke is one of the leading causes of neurological disability among adults and often causes movement impairments [1]. For patients with motor deficits in lower extremities, gait rehabilitation can improve activities of daily living [2]. A new tendency in rehabilitation is to involve not only the patient's body but also their brain. This tendency, called "human in the loop", allows to increase the engagement and motivation of the patients while actively performing the tasks [3]. It has been shown that cortical plasticity of both brain hemispheres contributes to successful gait rehabilitation [4–6]. In order to facilitate closing the loop, rehabilitation devices should be able to detect cognitive processes related to the therapy. This can be achieved by using electroencephalography (EEG) based brain-computer interface (BCI).
One of the cognitive processes involved in rehabilitation is the intention to move. Neural correlates of movement intention, as measured by EEG, are the motor-related cortical potential (MRCP) [7, 8] and the event-related (de)synchronization (ERD/S) [9]. Since these correlates anticipate movement, they can be used to trigger prosthetic devices such as exoskeletons, and facilitate the usage of BCIs in rehabilitation [10–13].
Lower-limbs pre-movement state has been recently studied in healthy subjects when performing movements such as ankle dorsiflexion [14], knee movements [15], simultaneous dorsiflexion of both feet [16], sitting-standing transitions [17] or analysis of lower limbs in the context of gait function [18–22]. However, only few studies have shown the feasibility of these methods on stroke patients [23, 24]. In one of the studies [23], MRCPs are used for the detection of pre-movement states when performing overt and covert ankle-dorsiflexion in both healthy and stroke subjects. Another study [24] relies on the detection of ERD as a pre-movement correlate when performing ankle-dorsiflexions, for the control of a functional electrical stimulation (FES) rehabilitation device. To our knowledge, this is the first study about the detection of self-initiated walking, relying on EEG correlates, in stroke patients.
On the basis of an experimental setup with nine stroke patients that underwent three recording sessions with one week between them, we address two hypotheses. First, based on a previous study with healthy subjects [22], we hypothesize that an EEG-based decoder that combines temporal and spectral features can detect the pre-movement state of stroke patients. Next, we surmise that the intrinsic-motivation of the patients when performing tasks related to gait-rehabilitation can positively modulate the accuracy of the EEG-based detector.
Discussion
In the present work we show, first, that stroke EEG data related to pre-walking state is classifiable using a detector that combines temporal and spectral features. Our detection model is based on a linear discriminant classifier that combines the outputs of MRCP-based and ERD-based sparse classifiers. For the evaluation of the detection model, we used the percentage of correctly classified trials as a metric of performance [22]. We attained a median detection rate of 64 % in a range between 18 % and 85.2 %, whereas the chance level was 4 %.
Second, based on previous findings [36], we hypothesized that for patients highly motivated to execute the rehabilitation related tasks we will attain higher detection rates. Therefore, we assessed the intrinsic motivation [34] to perform therapy related sessions, and found that the self-reported motivation and the perceived usefulness of the rehabilitation task had a strong positive effect on the number of correct detections of walking intention.
Neurophysiological findings
At a neurophysiological level, we assessed the difference over the three sessions (repetitions) between subjects at the beginning of the analysis by a statistical measure (two-way ANOVA) using the patients' neural correlates (MRCP and ERD) as dependent variables. After correcting for multiple comparisons, we found that some of the samples corresponding to a certain subject and session (e.g. subject 1 session 3) had measurement points far from the common mean and were rejected from the electrophysiological analysis. The variability of the MRCP and ERD is shown in Figure 8 from Appendix. The difference in the neural correlates can be seen both between sessions and subjects. For example, subject 2 and subject 8 have different session-specific and subject-specific patterns.
Even though a direct comparison is not straightforward due to several differences, mainly in age and medical condition, the similarity of the grand average EEG-based pre-movement correlates can be observed between healthy young adults [22] and chronic stroke patients. However, it remains an open question whether similar results could be obtained with subacute stroke patients. Patients in an earlier stage (acute or subacute) of the stroke could benefit more from a self-paced and self-initiated rehabilitation therapy.
BCI detection of pre-movement state
EEG-based BCIs have been extensively used in studies about the detection of upper-limbs movement intention in healthy subjects [12, 37–40], and in stroke patients [10, 12, 41, 42]. In spite of the large number of stroke incidents affecting the lower limbs and the gait function, less attention has been devoted to studies about the detection of lower-limb pre-movement state in healthy subjects [21–23, 43], and even less in stroke patients [10, 12, 41, 42].
Furthermore, the majority of existing EEG studies on pre-movement state detection use either low-frequency amplitude features [12, 23, 37, 44, 45] or spectral features for the analysis [10, 46–49]. Recent studies on healthy subjects report the usage of MRCP features to detect the intention to move the lower-limbs, in tasks such as foot torque movements [43], ankle dorsiflexions [23] or gait movements [21, 22]. For the detection of pre-movement state in foot torque movements [43] the accuracy ranged between 60 % and 84.2 % depending of the family of wavelets used in classification. In the case of ankle-dorsiflexions pre-movement state detection [23] an accuracy of 82.5 ± 7.8 % (N = 15) has been obtained using an optimized spatial filtering technique.
The detection of gait pre-movement state has been presented in [21, 22]. In [21] a true positive rate (TPR) detection of 76.9 % and a false positive rate (FPR) of 2.93 ± 1.09 per minute has been reported using a template-matching technique based on one second long windows prior to the MRCP peak. The detection was performed until one second after the motion onset. In a previous study [22] we evaluated the detection of gait intention until motion onset and found a TPR of 67.2 ± 5.9 % and a FPR of 0.79 ± 0.17 per minute, using an asynchronous detector that combines MRCP and ERD features. In the current study on chronic stroke patients, we obtained a lower median performance (64 %), as percentage of correctly classified trials, compared to the results reported previously in healthy subjects (70 % correctly classified trials). Moreover, we showed in [22] that the transfer between sessions, more precisely the removal of session-specific calibration of the BCI detector, introduces a decay in performance of 4 % for intervals of one or two weeks between sessions. For the chronic stroke patients in this study, the intersession transfer performance was lower than 30 %. The attained decay in performance was more than 32 % compared to the previous decay of only 4 %, in healthy young adults.
The lower signal-to-noise ratio in the stroke patients, relative to the one observed in healthy subjects [22], could explain the larger decay in performance between sessions. Moreover, this difference in the signal-to-noise ratio between the two groups of subjects could be due to several factors such as age, brain condition, medication, fatigue, and others, that lead to variability in the neural correlates. During the recovery period, patients in earlier stroke stages (acute and subacute) have shown large variability in their brain activity [50–53]. However, in our study the patients were in later stages of chronic stroke (between 1.4 and 16 years following stroke) and it is unlikely that the session-to-session decay is due to the recovery and to the associated brain plasticity, however further investigation is needed.
Nevertheless a direct comparison with previous studies is not easy due to difference in experimental protocol and methodology. One should note that the metric we use to quantify the performance in [22] and in the current study is the number of correctly classified trials. This metric applies a highly restrictive criterion since it considers a trial as correctly detected only if it has non-zero sensitivity (at least one window correctly classified as pre-movement state) and maximum specificity (no false positive detections). This metric is suitable for rehabilitation scenarios where the number of false positive detections (e.g. activations of a prosthetic device) should be minimized.
There are few studies that report the usage of EEG signals for the detection of intention to move the lower-limbs in stroke patients. One recent study [23] shows the detection of overt and covert self-paced execution of ankle-dorsiflexion in both healthy subjects and stroke patients. The data was analyzed with different spatial filters and a matched filter supervised approach to determine the detection accuracy and latency of MRCP. They attained a TPR of 55.01 ± 12.01 % for stroke patients (N = 5). In another study [24], a functional electrical stimulation (FES) rehabilitation device was triggered by the intention to perform ankle-dorsiflexion of one stroke patient. The intention to move was decoded from ERD using an EEG-based BCI. They evaluated the feasibility of the rehabilitation technique using ERD-modulated FES in comparison with FES without ERD modulation and found potential improvements of limb function.
Intrinsic Motivation Inventory outcomes
The Intrinsic Motivation Inventory results show that the self-reported motivation of the patients, as well as their perceived usefulness of the undergoing task are positively correlated with the detection rate of their intention to walk (r= 0.561, r= 0.542, respectively). However, the other scales did not show any correlation with performance.
Given the promising results of the correlation between motivation and performance, it would be interesting to further explore the role of motivation or other psychological factors, as regressors for neurophysiological data. Such a regression approach would require a larger number of subjects as presented in a recent study [54], which links the BCI performance modulated by sensorimotor rhythms to several psychological measurements.
Conclusion
In conclusion, we show that an EEG-based detector of intention to walk can be used in stroke patients, attaining a median performance of 64 % within a range of 18 % and 85.2 %, whereas the chance level is 4 %. Moreover, we found a strong positive link between the motivation of the patients to execute the task and the attained detection rate of their intention to walk. Future work could be directed towards different goals. First, on the improvement in performance during session to session transfer. Specifically, the increase in performance on the transfer between sessions leads to the reduction of session-specific calibration time, that is often tiring and demanding for the patients. Another aim could be to test robustness of the proposed model in a gait-rehabilitation scenario, allowing to close the loop in which the user naturally utilizes his neural signals to activate a prosthetic device.
Appendix
Grand average MRCP and ERD for each subject over selected sessions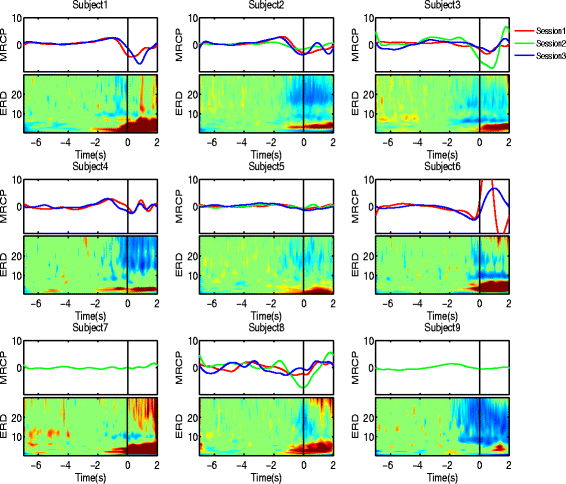 Endnote
1 This project is part of the Spanish Ministry of Science Consolider Ingenio program, HYPER (Hybrid Neuroprosthetic and Neurorobotic Devices for Functional Compensation and Rehabilitation of Motor Disorders) - CSD2009-00067.
Declarations
Acknowledgements
Authors would like to thank the volunteers for participating in this study and to Filip Melinscak and Tiberiu-Stefan Popa for fruitful discussions. Authors acknowledge funding by the European Commission through the FP7 Marie Curie Initial Training Network 289146, NETT: Neural Engineering Transformative Technologies and FP7 CORBYS IP project (GA 270219) and the Spanish Ministry of Science projects HYPER-CSD2009-00067 and DPI2011-25892.
Open Access This article is distributed under the terms of the Creative Commons Attribution 4.0 International License (http://creativecommons.org/licenses/by/4.0/), which permits unrestricted use, distribution, and reproduction in any medium, provided you give appropriate credit to the original author(s) and the source, provide a link to the Creative Commons license, and indicate if changes were made. The Creative Commons Public Domain Dedication waiver (http://creativecommons.org/publicdomain/zero/1.0/) applies to the data made available in this article, unless otherwise stated.
Authors' Affiliations
(1)
Bit & Brain Technologies S.L., Zaragoza, Spain
(2)
University of Zaragoza, Institute of Investigation in Engineering of Aragon (I3A), Zaragoza, Spain
(3)
Department of Physiotherapy, Occupational therapy, Rehabilitation and Physical Medicine, Faculty of Health Sciences, Alcorcon, Spain