MEG-based neurofeedback for hand rehabilitation
Journal of NeuroEngineering and Rehabilitation
2015
12:85
Received: 27 April 2015
Accepted: 11 September 2015
Published: 22 September 2015
Abstract
Background
Providing neurofeedback (NF) of motor-related brain activity in a biologically-relevant and intuitive way could maximize the utility of a brain-computer interface (BCI) for promoting therapeutic plasticity. We present a BCI capable of providing intuitive and direct control of a video-based grasp.
Methods
Utilizing magnetoencephalography's (MEG) high temporal and spatial resolution, we recorded sensorimotor rhythms (SMR) that were modulated by grasp or rest intentions. SMR modulation controlled the grasp aperture of a stop motion video of a human hand. The displayed hand grasp position was driven incrementally towards a closed or opened state and subjects were required to hold the targeted position for a time that was adjusted to change the task difficulty.
Results
We demonstrated that three individuals with complete hand paralysis due to spinal cord injury (SCI) were able to maintain brain-control of closing and opening a virtual hand with an average of 63 % success which was significantly above the average chance rate of 19 %. This level of performance was achieved without pre-training and less than 4 min of calibration. In addition, successful grasp targets were reached in 1.96 ± 0.15 s. Subjects performed 200 brain-controlled trials in approximately 30 min excluding breaks. Two of the three participants showed a significant improvement in SMR indicating that they had learned to change their brain activity within a single session of NF.
Conclusions
This study demonstrated the utility of a MEG-based BCI system to provide realistic, efficient, and focused NF to individuals with paralysis with the goal of using NF to induce neuroplasticity.
Keywords
Brain-Computer Interface
Neurofeedback
Spinal Cord Injury
Magnetoencephalography
Neuroplasticity
Rehabilitation
Background
Typical rehabilitation strategies for people with paralysis rely on residual physical function to drive motor recovery. However, if injury prevents a person from generating muscle activity, an alternative approach is to use a therapy based on extracting information about motor intention directly from the brain. Studies of individuals with spinal cord injury (SCI) or hemiplegia due to stroke have shown that functional recovery during the early stages of rehabilitation is accompanied by a return to a more normal activation pattern within the sensorimotor cortex [1–4]. In the case of SCI, motor-related activity is often altered (see [5] for a summary). Using brain computer interfaces (BCIs), people can learn to modulate their brain activity, which has the potential to promote therapeutic neuroplasticity [6, 7]. BCIs record neural activity and allow for real-time feedback of certain features of the brain signal in order to facilitate learning through the principles of operant conditioning. We expect that improving a person's ability to generate motor-related brain activity could strengthen any remaining or repaired corticospinal connections, which would better transmit intentions to the paralyzed muscles.
BCIs rely on volitional modulation of cortical activity, often achieved through attempted and imagined movements, and can form the basis of neurofeedback (NF) training paradigms. In particular, sensorimotor rhythms (SMR) (8–30 Hz) have been used to control assistive devices and are being investigated for rehabilitative NF [6, 8, 9]. While most research to date has used electroencephalography (EEG) or electrocorticography (ECoG) to record SMR activity, magnetoencephalography (MEG) can also be used to detect and provide real-time feedback of SMRs [10–15]. MEG has the advantage of non-invasively recording across the whole scalp while maintaining high spatial and temporal resolution. In addition, compared to EEG, MEG allows for better source localization and detection of higher frequencies because magnetic fields are not attenuated by the skull as is the case for electric fields [16]. Though not portable, MEG-based BCIs are relevant for rehabilitation interventions.
BCI-based neurofeedback paradigms have recently been investigated for restoration of motor function after stroke using both EEG [17, 18] and MEG [11] with some success. We present a novel MEG-based BCI system to deliver a NF paradigm for promoting therapeutic neuroplasticity for recovery of hand function. Our system utilizes anthropomorphic feedback to activate intact action-observation networks based on the same principles as mirror therapy for stroke and phantom limb syndrome [19–22]. Another novel feature is that subjects have proportional, continuous control of the real-time display using cortical activity directly associated with the intended movement. The goal was to provide NF using an intuitive and natural control signal based on cortical activity that typically occurs during overt movement. Specifically, changes in SMR activity resulting from attempted grasping drives the grasp-posture of a stop motion video-based NF paradigm, which forms a strong causal link between intention and action. Our system was also designed to maximize the time participants spent with the grasp-related NF task while maintaining proficient brain control. A short calibration period (<4 min) with no pre-training was sufficient for effective BCI performance. Lastly, task difficulty was adjusted during the session in order to maintain motivation and maximize SMR modulation. We evaluated our system with three participants who had complete hand paralysis due to SCI. We show that in people with complete paralysis, SMR activity can be recorded with MEG during attempted hand movement to drive a real-time NF paradigm and that in some participants (n = 2), SMR modulation significantly increased over the course of a session.
Results
BCI performance
All subjects were able to control the hand-aperture of the video-based BCI system using SMR activity. Table
2
summarizes the success rate in each session. Grasp success rates varied between 63 and 76 % across subjects while overall success rates varied between 62 and 64 %. Success rate was significantly better than chance for each participant (
p
 < 0.001, t-test) with chance levels ranging from 12 to 31 %. Success rate was also significant for each subject when considering grasp-only and rest-only trials (
p
 < 0.001, t-test). S01 had a bias toward grasp that was reflected as a higher chance level for grasp trials than other subjects while resting was made more difficult by the bias, which was reflected as a very low chance level for rest trials. To further quantify the effect of a decoder bias towards grasp, Grasp Error Rate was computed as the percent of rest trials that ended incorrectly as a held grasp (Table
2
). Table
2
also shows the time taken to reach successful grasps indicating that these trials were performed quickly in 1.96 ± 0.15 s (plus hold time). The time spent on the 200 NF trials was 30, 29, and 31 min (S01, S02, S03 respectively) excluding breaks. Participants took a break for rest and/or pressure relief after 22, 11, and 17 min (S01, S02, and S03 respectively). S01 and S03 repeated the calibration task following the break period to generate a new decoder to account for changes in head position. Though BCI performance improved after breaks for all participants (Fig.
3
), the success rate was not significantly higher in the block following a break compared to the block before the break (p = 0.22; paired t-test). The slight improvement in performance could be due to a number of factors including reduced fatigue, renewed motivation, or recalibration (for Subjects S01 and S03). Figure
3
shows the BCI success rate across each block of 20 trials and indicates when recalibrations and breaks occurred.
| Subject | Success (%) | Chance (% ± SEM) | Grasp Success (%) | Grasp Chance (% ± SEM) | Rest Success (%) | Rest Chance (% ± SEM) | Grasp Error Rate (%) | Time to Successful Grasp (s) |
| --- | --- | --- | --- | --- | --- | --- | --- | --- |
| S01 | 64 | 31 ± .02 | 76 | 41 ± .03 | 28 | 1 ± .02 | 10 | 2.13 ± 1.16 |
| S02 | 62.5 | 15 ± .02 | 66 | 16 ± .03 | 52 | 9 ± .04 | 2 | 1.84 ± 1.22 |
| S03 | 63.5 | 12 ± 02 | 63.3 | 11 ± .02 | 64 | 14 ± .04 | 4 | 1.90 ± 1.17 |
| Mean ± STD | 63.3 ± 0.8 | 19.3 ± 10.2 | 68.4 ± 6.7 | 22.7 ± 16.1 | 48.0 ± 18.3 | 8.0 ± 6.6 | 5.3 ± 4.2 | 1.96 ± 0.15 |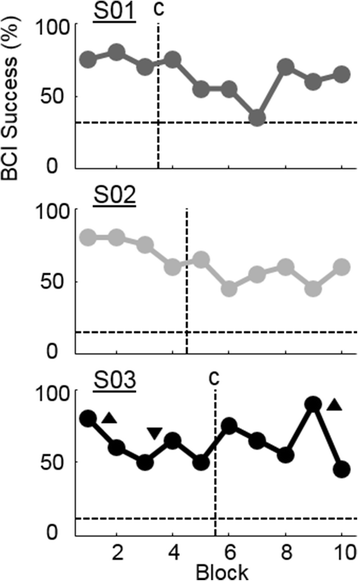 Improvement in SMR modulation
All participants were able to modulate their SMRs using attempted grasps even though they had complete hand paralysis. As an example, Fig.
4
shows the average spectral activity from a left-sensorimotor sensor during brain control of grasp generated by subject S03. During attempted movement a decrease in SMR activity was observed soon after the target cue was presented (time 0). This would be the expected activation pattern for overt or imagined movement [
30
,
31
].

The trends in SMR modulation across the three session-segments are shown in Fig.
5
and
6
. When comparing SMR modulation across session-segments with a repeated measures ANOVA, the main effect of session-segment and the interaction of subject and session-segment were significant (
p
 < 0.001). The average SMR across subjects increased by 9.9 ± 6.9 pp from the first 50 grasp-trials to the last. Two of the three participants showed a significant increase in their ability to modulate SMRs by 14.9 pp (S01) and 15.0 pp (S02) (
p
 < 0.05 pairwise multiple comparisons test with Bonferroni correction). Subject S03 displayed a consistent SMR modulation with no significant differences between session-segments. Figure
6
illustrates the changes in SMR modulation across the whole head. SMR modulation was pronounced in the left-sensorimotor area for all subjects. S01 did not demonstrate a focused desynchronization until the end of the study. The middle session-segment for S01 showed an increase in SMR around the edge of the helmet, which was likely related to neck tension the participant reported. Note that features with an increase in SMR during grasp were masked during calibration of the neural decoder. S02 showed an initial SMR that strengthened as the session progressed while S03 maintained a consistent SMR pattern.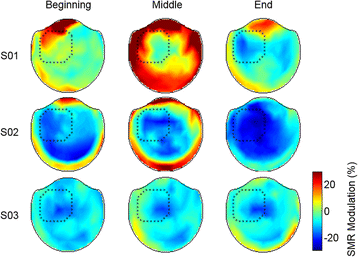 Discussion
The origins of NF can be traced back many decades to experiments where subjects learned to modulate the activity of their neural oscillations [32] or even single cells recorded from motor cortex [33]. Early clinical applications were focused on neurologic or behavioral conditions such as epilepsy [34], anxiety [35], or attention deficit hyperactivity disorder (ADHD) [36]. The goal of these NF applications was to teach participants to regulate specific brain activity patterns with the goal of returning to a normal baseline. Only recently has NF been applied to motor rehabilitation. We present a novel NF paradigm that has the potential to promote neuroplasticity for motor rehabilitation by utilizing feedback that is driven by neural activation patterns normally expected during movement, in combination with the potential facilitating involvement of the mirror neuron system. Typically, the movement of a cursor or bar is used for continuous feedback in a motor-focused NF paradigm which may limit participant's ability to embody the NF [10, 11, 14, 37]. Conversely, our calibration and feedback employed anthropomorphic grasping to engage mirror neuron and action observation networks [19, 38], which may have led to stronger SMR desynchronization and embodiment of the NF. We did not explicitly compare anthropomorphic to non-biological feedback, however previous work suggests that using realistic feedback is important for activating the mirror neuron and action observation networks [39–42]. However, future studies are needed to quantify the impact that anthropomorphic feedback has on NF performance and cortical oscillations, especially in a chronically paralyzed population.
Furthermore, the presence of a goal-object (i.e. the grasping bar) likely increased the SMR suppression compared to a non-goal-directed action like simply opening and closing the hand [43]. During brain control, a decrease in SMR-power from attempted grasping of the participant's own impaired hand drove the stop-motion video towards grasp. This natural and congruent command of grasp was intended to strengthen the causal relationship between intention and feedback. In our study, visual feedback of the realistic hand movement was presented with a 76 ms latency to further maintain a strong causal link between intention and feedback. Delays longer than 200 ms between a person's movement intention and a device's reaction is noticeable and can be distracting, leading to degraded task performance [44]. Long delays often seen in BCI-rehabilitation systems may limit their ability to promote plasticity or may make the systems more difficult to control [45, 46]. Due to the limited time for rehabilitation interventions, one of our goals was to minimize the amount of time required for calibration. Quicker system calibration means more time and energy can be devoted to the NF task. Calibration and training time vary widely across other NF studies, ranging from 30 min [37] to multiple training sessions [10, 11] in order to achieve proficient brain control. Our system required less than 4 min of calibration data and no pre-training of participants. Calibration duration was determined based on our previous work which showed that 60 trials (or less than 5 min) of calibration data was needed to decode grasp-intention in able-bodied participants when using multiple frequency bands and sensors from MEG [28]. The addition of our desynchronization feature mask presented here also helped utilize the calibration data by constraining the neural signals to the appropriate SMR modulation as would be expected during movement [30, 31] and by removing noisy features that were inappropriately active during grasp trials. Fast calibration is especially important for MEG-BCI where changes in head position can distort a neural decoder that typically assumes stationary neural activity.
All three participants were able to control grasping and closing of a virtual hand well above chance level, though they were unable to move their own hand due to SCI. This performance was comparable to other SMR-based BCI studies. Similar success rates were found in a MEG-based BCI system for individuals with paralysis due to stroke (between 65 and 90 %) [11]. However, this success rate required multiple sessions to achieve and the NF was a two-choice cursor control task with a 50 % chance level. No improvement in hand function were found after the 13–22 sessions in Buch et al. who enrolled only individuals with complete hand paralysis due to chronic stroke [11]. No changes in hand function were observed after a single session in our study, however, we expect that long term training would be required to achieve functional improvements. Studies with able-bodied participants have shown similar performance quality on a two-choice motor-imagery BCI task demonstrating 74.4 ± 16.5 % accuracy with EEG [37] and 71.74 ± 15.77 % accuracy with MEG [10]. However, a direct comparison is difficult since our study had a hold period and time-out period that made the chance level much less than 50 % (between 12 and 31 %). The grasp error rate calculations indicate that the decoder for subject S01 had a bias towards grasp making it difficult to complete rest trials in spite of good grasp performance. However, S01 did achieve control of both grasp and rest individually that was significantly above chance and had a significant improvement in SMR modulation, which suggests the decoder bias may not have a critical impact on NF.
Two of the three participants demonstrated improved SMR modulation with one session of NF. The changes in SMR occurred locally under the sensorimotor sensors as seen in Fig. 6. The SMR for S03 did not improve significantly, however S03 had stronger SMR modulation during the first session-segment than either S01 (p < 0.001, Bonferroni corrected t-test) or S02 (p < 0.001); which may have limited the potential for large SMR improvements in only one session.
Though participants demonstrated improved SMR modulation, BCI performance did not improve throughout the session, even when accounting for changes in task difficulty. Though this seems counterintuitive since SMR drove the BCI, a decrease in BCI performance is likely due to decoupling between brain signals and the neural decoder as the session progressed. This change over time is partly due to changes in SMR amplitude and possible reorganization, but also largely due to changes in subject's head position and comfort. As sessions progressed the participants (who all had had traumatic spinal cord injuries) needed breaks to relax their neck. Fatigue and discomfort can lead to slow changes in head position across a session. This is an important consideration for developing a rehabilitation intervention where patients will have varying impairment. Because the neural decoders in the study assumed a stationary brain within the MEG helmet, the weights likely became sub-optimal in the presence of postural changes. We provided breaks for relaxation and recalibration, but this may not have been enough to mitigate all changes in head-position and alleviate fatigue. In the current study, we recalibrated the system when the participant took a break that would lead to a large change in head position (break timing is indicated in Fig. 3). However, online correction for head movement could potentially eliminate the need to recalibrate and has been demonstrated as feasible [47].
Conclusions
We present a BCI system that has the potential to promote neuroplasticity for motor rehabilitation. We demonstrated that three of three individuals with complete hand paralysis due to SCI were able to successfully drive the grasping of a virtual hand using SMR activity recorded with MEG. We found that two out of three participants were able to significantly strengthen their SMR activity within one session of NF. This proof of concept study suggests that NF training has the potential to promote neuroplasticity, which could be used for motor rehabilitation. A more extensive study is needed to evaluate if the improvements in SMR are retained and if long term NF training can provide therapeutic benefits to people with different amounts of paralysis. Incorporating design principles that take advantage of biologically-relevant feedback and intuitive command strategies could improve future NF studies.
Abbreviations
BCI:

Brain-Computer Interface
NF:

Neurofeedback
SCI:

Spinal Cord Injury
MEG:

Magnetoencephalography
SMR:

Sensorimotor Rhythms
Declarations
Acknowledgments
The authors would like to express gratitude to Betsy Harchick, Debbie Harrington, and Michael Randazzo for assistance with the experiments and Emily Grattan and Juleen Rodakowski for assistance with the functional assessments. This work was supported by the Department of Veterans Affairs, Office of Research and Development, Rehabilitation Research & Development Service (Grants #B7143R) and the VISN 4 Competitive Pilot Project Fund. Its contents are solely the responsibility of the authors and do not necessarily represent the official view of the Department of Veterans Affairs or the United States Government.
Open AccessThis article is distributed under the terms of the Creative Commons Attribution 4.0 International License (http://creativecommons.org/licenses/by/4.0/), which permits unrestricted use, distribution, and reproduction in any medium, provided you give appropriate credit to the original author(s) and the source, provide a link to the Creative Commons license, and indicate if changes were made. The Creative Commons Public Domain Dedication waiver (http://creativecommons.org/publicdomain/zero/1.0/) applies to the data made available in this article, unless otherwise stated.
Authors' Affiliations
(1)
VA Pittsburgh Healthcare System, Human Engineering Research Laboratories, Pittsburgh, USA
(2)
Department of Physical Medicine and Rehabilitation, University of Pittsburgh, Pittsburgh, USA
(3)
Center for the Neural Basis of Cognition, Carnegie Mellon University, University of Pittsburgh, Pittsburgh, USA
(4)
Department of Bioengineering, University of Pittsburgh, University of Pittsburgh, Pittsburgh, USA