Exploring the bases for a mixed reality stroke rehabilitation system, Part II: Design of Interactive Feedback for upper limb rehabilitation
Journal of NeuroEngineering and Rehabilitation
2011
8:54
Received: 30 October 2010
Accepted: 8 September 2011
Published: 8 September 2011
Abstract
Background
Few existing interactive rehabilitation systems can effectively communicate multiple aspects of movement performance simultaneously, in a manner that appropriately adapts across various training scenarios. In order to address the need for such systems within stroke rehabilitation training, a unified approach for designing interactive systems for upper limb rehabilitation of stroke survivors has been developed and applied for the implementation of an Adaptive Mixed Reality Rehabilitation (AMRR) System.
Results
The AMRR system provides computational evaluation and multimedia feedback for the upper limb rehabilitation of stroke survivors. A participant's movements are tracked by motion capture technology and evaluated by computational means. The resulting data are used to generate interactive media-based feedback that communicates to the participant detailed, intuitive evaluations of his performance. This article describes how the AMRR system's interactive feedback is designed to address specific movement challenges faced by stroke survivors. Multimedia examples are provided to illustrate each feedback component. Supportive data are provided for three participants of varying impairment levels to demonstrate the system's ability to train both targeted and integrated aspects of movement.
Conclusions
The AMRR system supports training of multiple movement aspects together or in isolation, within adaptable sequences, through cohesive feedback that is based on formalized compositional design principles. From preliminary analysis of the data, we infer that the system's ability to train multiple foci together or in isolation in adaptable sequences, utilizing appropriately designed feedback, can lead to functional improvement. The evaluation and feedback frameworks established within the AMRR system will be applied to the development of a novel home-based system to provide an engaging yet low-cost extension of training for longer periods of time.
Keywords
Stroke SurvivorElbow ExtensionTrajectory ErrorFeedback ComponentLimb Rehabilitation
Background
Sensorimotor rehabilitation can be effective in reducing motor impairment when engaging the user in repetitive task training [1]. Virtual realities (exclusively digital) and mixed realities (combining digital and physical elements) can provide augmented feedback on movement performance for sensorimotor rehabilitation [2–8]. Several types of augmented feedback environments may be used in conjunction with task oriented training. Some virtual reality environments for upper limb rehabilitation have been categorized as "game-like" because the user accomplishes tasks in the context of a game, while some are described as "teacher-animation", in which the user is directly guided throughout his movement [9]. Among the teacher-animation environments for upper limb rehabilitation, several provide a three-dimensional representation of a hand or arm controlled by the user, which relate feedback to action by directly representing the user's experience in physical reality. Some applications, in contrast, use simple abstract environments (e.g., mapping hand movement to moving a cursor) to avoid providing potentially extraneous, overwhelming or confusing information. However, because functional tasks require knowledge and coordination of several parameters by the mover, an excessive reduction in complexity of action-related information may impede functional rehabilitation [10, 11]. Augmented feedback for rehabilitation can best leverage motor learning principles if it allows the participant to focus on individual aspects of movement in the context of other key aspects of the trained movement. Therefore feedback should promote understanding of the relationships among multiple movement components.
Feedback used for rehabilitation training must also be adaptable in design, allowing for changes in training intensity and focus. Yet few existing augmented reality rehabilitation environments effectively communicate multiple aspects of movement performance simultaneously, or furthermore, do so in a manner that is adaptable and generalizes across multiple training scenarios.
In our companion paper, Lehrer et al present a methodology for developing interactive systems for stroke rehabilitation that allow for adaptive, integrated training of multiple movement aspects [12]. While the methodology may be generalized to different types of movement training within stroke rehabilitation, this paper applies the methodology to interactive reach and grasp training as exemplified in the Adaptive Mixed Reality Rehabilitation (AMRR) System.
We now provide an overview of the AMRR system and participant experience, followed by a more detailed discussion of the applied design methodology within the system's implementation. An action representation for reach and grasp training is presented with accompanying methods for quantifying the representation's kinematic features, which allow for measurable evaluation of performance and generation of media-based feedback. Descriptions of how the AMRR feedback addresses specific movement challenges are then provided, with corresponding multimedia examples. An overview of the system's adaptation of the feedback and training environments demonstrates how AMRR training can be customized for each stroke survivor. Finally supportive data from three participant cases are presented to demonstrate the system's ability to promote integrated improvement of several movement features. Correlations between performance improvements in trials following the presence of observable feedback are also presented in support of the feedback design's efficacy in promoting self-assessment by the participant. A full results paper evaluating the use of AMRR therapy in comparison to traditional therapy will be provided in a forthcoming paper after the conclusion of a clinical study currently underway. The main intent of this paper is to provide a detailed description of the implemented methodology for interactive feedback within the AMRR system based on principles established in [12].
Results
System Overview
The Adaptive Mixed Reality Rehabilitation (AMRR) system provides detailed evaluation information and interactive audiovisual feedback on the performance of a reach and grasp task for the upper extremity rehabilitation of stroke survivors. See additional file
1
: AMRR system demonstration to view the AMRR system in use. Figure
1
presents an overview of the AMRR system's components. The system uses motion capture to track a participant's movement throughout a reach and grasp task and extracts the key kinematic features of the action representation described in Lehrer et al [
12
]. These kinematic features are used for computational evaluation of the participant's performance, which can assist a clinician's assessment through summary visualizations. The kinematic features also generate the interactive feedback experienced by the participant. The term adaptive in this context refers to the ability of the therapist to adjust components of the system (e.g. feedback or physical components of the system) to accommodate the participant throughout training. The clinician may also use physical or verbal cues to further provide guidance when the feedback is not clearly understood by the participant.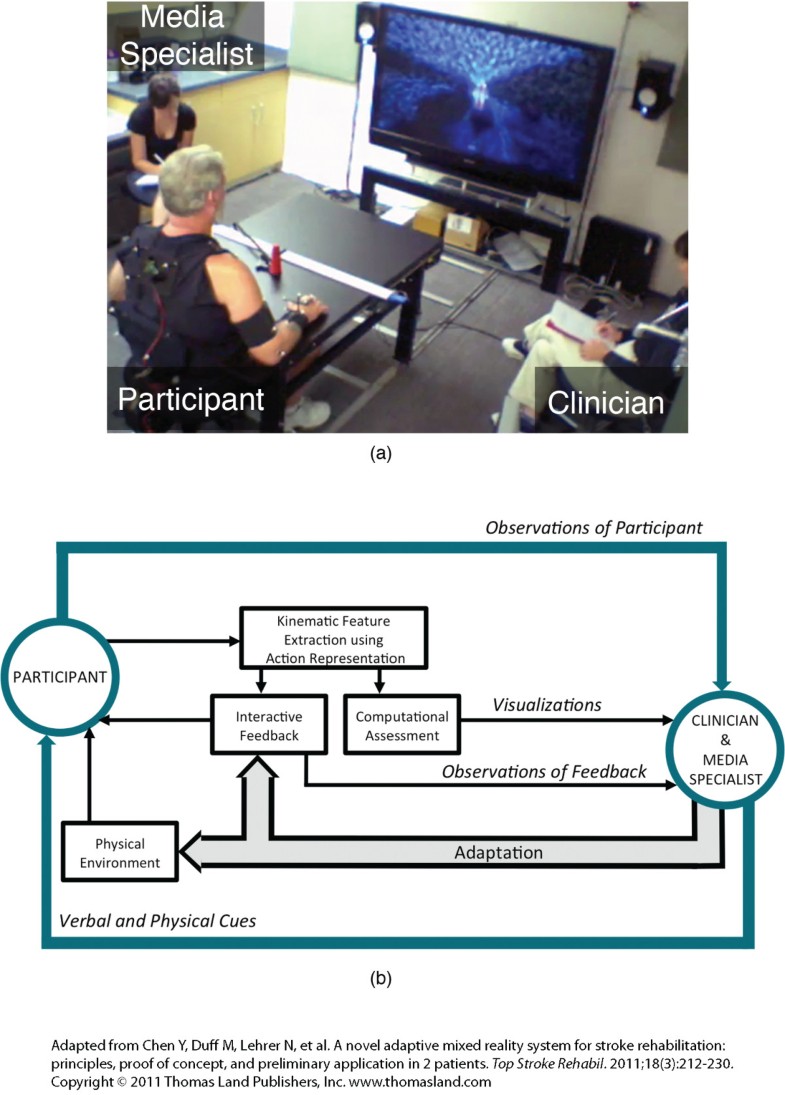 Figure
2(a
) depicts an overview of the AMRR system apparatus. The system uses 11 Opti-Track FLEX:V100 R2 cameras to track 14 reflective markers, shown in Figure
2(b
), worn by the participant on his back, shoulder blade, acromium process, lateral epicondyle, and the top of his hand, with 3 additional markers on the chair. The system tracks the participant's movement at a rate of 100 Hz, with a spatial resolution of 3.5 - 5.5 mm. Interaction with target objects on the table is sensed though a capacitive touch sensor within a button object (used in reach-to-touch tasks) and an array of force sensing resistors (FSRs) on a cone object (used in reach-to-grasp tasks). Embedded FSRs within the chair monitor the extent of support provided for the participant's torso and back. Currently, sensor data collected by the button object is used in real-time interaction to determine if the task was completed, while cone FSR data is being collected to inform the development of objects that provide feedback on grasping performance. FSR data collected by the chair is being used to develop a smart chair for monitoring torso compensation within a home-based training system.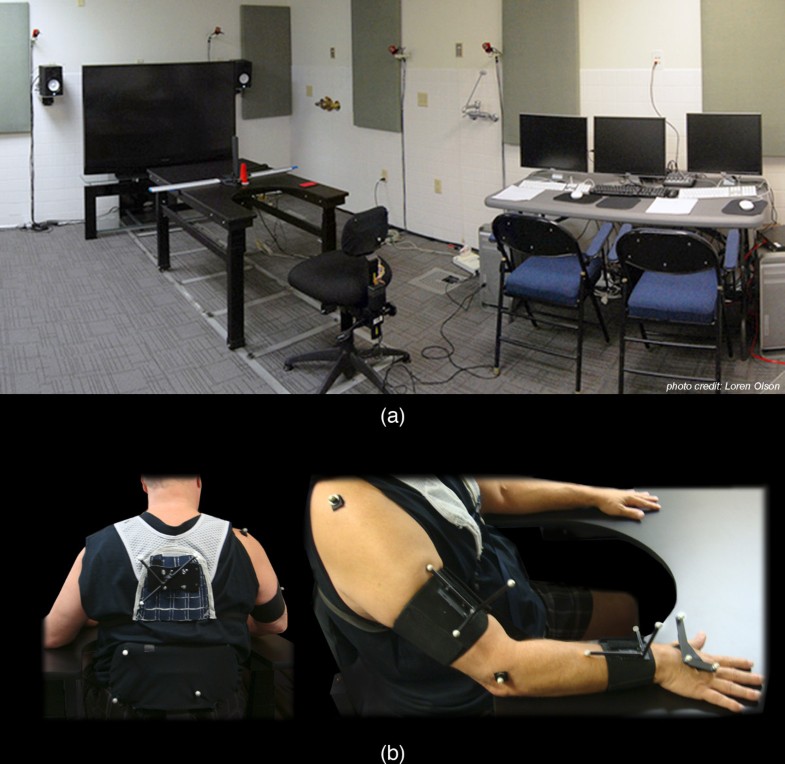 The system is used by stroke survivors presenting clinical symptoms consistent with left-sided motor area lesions resulting in right-sided hemiparesis, who were right hand dominant prior to stroke. Each participant must demonstrate active range of motion in the right arm, with the following minimum movement thresholds to ensure they can complete the reaching task: shoulder flexion of at least 45°, elbow ROM of at least 30°-90°, forearm pronation or supination of at least 20°, wrist extension of at least 20°, and at least 10° active extension of the thumb and any two fingers. Each participant must earn a score greater than 24 on the Mini Mental State Exam and demonstrate acceptable levels of audio and visual perception. Our sensory perception test assesses color blindness, the ability to detect basic properties of musical sounds, such as pitch, timbre, loudness, and the ability to perceive structural characteristics of the feedback such as movement of images and rhythm acceleration [13].
A participant receives 1 hour of AMRR therapy, 3 times a week for 1 month, for a total of 12 therapy training sessions. An average of 8-12 sets of 10 reaches are practiced per session depending upon the participant's ability and fatigue. Between sets the participant is able to rest, while also interact with the clinician to discuss the last set. During a therapy training session, the participant is seated at a table that is lowered or raised to provide various levels of support for the affected arm. The table also allows various target objects to be mounted and adjusted in location. Visual and audio feedback is presented on a large screen display with stereo speakers in front of the participant. While seated at the table, the participant performs a reaching task to a physical target, a cone to grasp or a large button to press, or virtual target, which requires the completion of a reach to a specified location with the assistance of audiovisual feedback. Physical and virtual target locations are presented either on the table to train supported reaches, or raised to variable heights above the table to train unsupported (against-gravity) reaches. At each height, targets can be placed at three different locations to engage different joint spaces in training.
In virtual training (with no physical target), each reach begins with a digital image appearing on the screen, which breaks apart into several minute segments of the image, referred to as particles. As the participant moves his hand towards a target location, the hand's forward movement pushes the particles back to reassemble the image and simultaneously generates a musical phrase. Any aspect of the digital feedback, however, may be turned on or off for reaching tasks to physical targets, depending on the needs of the participant, to provide mixed reality tasks and associated training. See additional file 2: Feedback generation from motion capture, for an example of feedback generated while a participant reaches within the system. The abstract feedback used within the AMRR system does not directly represent the reaching task or explicitly specify how to perform the reaching movement (e.g., the feedback does not provide a visual depiction of a trajectory to follow). Instead, movement errors cause perturbations within the interactive media that emphasize the magnitude and direction of the error (e.g., an excessively curved trajectory to the right stretches the right side of a digital image). Promoting self-assessment through non-prescriptive feedback increases the degree of problem solving by the participant and encourages the development of independent movement strategies [14, 15]. The abstract feedback also recontextualizes the reaching task into performance of the interactive narrative (image completion and music generation), temporarily shifts focus away from exclusively physical action (and consequences of impaired movement) and can direct the participant's attention to a manageable number of specific aspects of his performance (e.g., by increasing sensitivity of feedback mapped to trajectory error) while deemphasizing others (e.g., by turning off feedback for excessive torso compensation).
The same abstract representation is applied across different reaching tasks (reach, reach to press, reach to grasp) and various target locations in three-dimensional space, as viewed in additional file 3: System adaptation. Thus the abstract media-based feedback provided by the AMRR system is designed to support generalization or the extent to which one training scenario transfers to other scenarios, by providing consistent feedback components on the same kinematic attributes across tasks (e.g., hand speed always controls the rhythm of the musical progression), and by encouraging the participant to identify key invariants of the movement (e.g., a pattern of acceleration and deceleration of rhythm caused by hand speed) across different reaching scenarios [16, 17].
Supportive Data
Table 5 also lists the difference in % improvement for feedback versus no feedback trials in the performance of a given kinematic variable following the triggering of feedback mapped to different kinematic variables (cells with non-bolded values). For example, for all 3 participants, torso forward compensation improved more after trials that triggered feedback on horizontal or vertical trajectory error (i.e. horizontal or vertical image stretching) than after trials that had significant torso compensation error but did not trigger image stretching.
Discussion
Table 4 demonstrates that although a participant's impairment profile can inform training, the resultant training dynamics are highly catered to an individual's progress and therefore may deviate from the initial impairment profile. Because the clinician can dynamically adapt AMRR training to respond to the participant's needs within or across sessions, training can focus on movement aspects that deviate from those listed within the impairment profile. Furthermore, the training distribution (number of sets that are focused on each movement attribute) does not necessarily reflect a movement attribute's rank in the initial impairment profile, as indicated in Table 4.
The generalizable value of AMRR training is supported by improvements in both the WMFT FAS scores (Figure 6) and kinematic measures (Figure 7) across the three participants, since the tasks trained in reach and grasp are not the same as the tasks assessed in the WMFT FAS. Due to the small number of samples, no statistical comparisons are provided. Though Participant 3 was able to achieve the most improvement in the motor function section of the Fugl-Meyer assessment, the other two participants, rated with lower impairment levels, may have made more gains had the training period been extended beyond twelve sessions.
Table 4 and Figure 7 demonstrate that customized approaches to training can result in kinematic improvements for participants of different impairment. Though each participant experienced training with different focus distributions, each participant improved across almost all of their respective focus areas. The exceptions are Participants 1 and 3 who did not improve in horizontal trajectory, which may be related to more attention given to accuracy with respect to the target's elevation, and Participant 1 who did not increase in speed, but remained within close range of 0.5 m/s. All participants improved in multiple aspects of movement that were not designated as focus areas as well.
An example of training using feedback on correlated aspects of movement can be seen in Participants 2 and 3, who each began training with insufficient elbow extension as a top-ranked movement impairment and experienced most of his focused training in torso compensation. This example illustrates how a more direct mapping encouraging explicit information processing on torso compensation was also utilized to promote elbow extension. Multiple types of feedback (e.g. feedback encouraging explicit versus implicit processes) catered in design to communicate performance of specific aspects of movement (trajectory versus joint relationships) can allow for both targeted and integrated training of multiple movement aspects. For example, in Participant 2's training, feedback on trajectory and speed were utilized to train individual performance aspects with resulting improvements, or were utilized in parallel to focus on training velocity bellness, which also improved. Improvement in joint correlation also utilized the integration of individual intermittent mappings in the context of continuous streams of activity level feedback in all 3 participants, for example, to improve performance of both individual joint function and integrated joint correlation.
Training also accommodates focus on activity level versus body function level movement aspects. Participant 1, rated with mild impairment, was able to maintain the majority of her activity level performance while improving all of her body level aspects that related to focused training. While over half of Participant 2's training focused in torso compensation and elbow extension, he experienced significant improvements across most features presented in both body function and activity level training. Participant 2's significant worsening in shoulder compensation could potentially be addressed with longer treatment periods allowing for focused training on this parameter.
Table 5 presents increased percentage improvement in kinematic performance for most kinematic-feedback mapping pairs (bolded values) across all 3 participants. These results reveal indices that concurrent AMRR feedback designed for explicit understanding on performance of a given kinematic variable can lead to immediate self-assessment and increased correction for that targeted aspect of movement. Furthermore, the correlation between increased improvements in a kinematic parameter and the presence of feedback mapped to different kinematic parameters may suggest that AMRR feedback promotes integrated training; it can allow the user to derive relationships between different aspects of movement through an extraction process (i.e. gain understanding after longer term experience with multiple feedback components), such as the effect of proximal body movements on distal end-point activity. Differences among the participants' performance improvements in relation to the triggered feedback demonstrates that the effectiveness of each feedback mapping can vary by user, providing support that an adaptable feedback paradigm catering to the needs of each participant is necessary.
Future work will include analysis of relationships between other feedback mappings that encourage more implicit processes (e.g. elbow extension, joint correlation, velocity profile) and correlated performance improvements. These aspects of movement, which require longer experience with the system, must in turn be assessed across multiple trials or sessions.
The AMRR system has been used and accepted by both stroke survivors and clinicians through a series of studies that demonstrate its reliability and validity [13, 16, 17]. We have discussed the experiences with all stroke survivors and clinicians that have used and are currently interacting with the system, and utilize their feedback for improvement. This is a continuous process, as new users offer valuable feedback for the improvement of the system's design. Thus, we are considering the development of a more standardized qualitative evaluation of the system by the users. Additionally, feedback on grasping is under current development, as well as feedback that elicits reaction without causing tension, so that we can consider reaction time as part of our evaluation. Knowledge gained through application of the clinical system design in practice also informs the development of a home-based rehabilitation system.
Currently a home-based adaptive mixed reality rehabilitation (HAMRR) system is under development that uses the design principles of the AMRR system to allow stroke survivors to continue their treatment over multiple months of therapy at home. Multimodal sensing methods and audiovisual feedback provide concurrent and summary information on task performance to assist the stroke survivor in self-assessing his movement. Within each week of training, a computational adaptation component automatically customizes weeklong therapy sessions based on a clinician's goals for the stroke survivor. The adaptation is structured as a semi-supervised framework, using a probabilistic graphical network representation based on [34]. The system archives performance evaluations of the stroke survivor's progress for the clinician to review remotely on a weekly basis and adjust training accordingly. After the therapist reviews the stroke survivor's movement evaluation, he or she can customize parameters in the adaptation framework, such as training focus and sequence, which will further inform the automatic adaptation used within weekly training. The HAMRR system is scheduled for testing by stroke survivors in their homes in the fall of 2011.
Conclusions
The methodology for designing a mixed reality system for stroke rehabilitation discussed in our companion paper[12] has been applied for the development of an Adaptive Mixed Reality Rehabilitation (AMRR) system for upper extremity rehabilitation of stroke survivors. The AMRR system provides evaluation and adaptable feedback tools for the clinician to promote effective customized training. From preliminary analysis of the data, we infer that the system's ability to train multiple foci together or in isolation in adaptable sequences, by utilizing appropriately designed feedback with cohesive form, can lead to functional improvement. Improvements for parameters with focused training are assumed to reflect the clinician's directed adaptation of the system to enhance the participant's concentrated practice of those aspects of movement. Body function improvements, occurring in conjunction with activity level improvements or sustained activity level performance, support the system's ability to provide integrated training towards achieving activity level recovery without fostering compensatory behavior. Feedback-performance correlations on a per trial basis suggest that AMRR explicit feedback is improving targeted aspects of performance and promoting integrated improvements across multiple aspects of movement.
Declarations
Acknowledgements
The authors would like to thank the entire Adaptive Mixed Reality Rehabilitation research group for their contributions to this project, as well as the participants of our system [35].
Authors' Affiliations
(1)
School of Arts, Media and Engineering, Arizona State University, Tempe, USA
(2)
Department of Bioengineering, Arizona State University, Tempe, USA
(3)
Department of Rehabilitation Medicine, Emory University, Atlanta, USA
Copyright
© Lehrer et al; licensee BioMed Central Ltd. 2011
This article is published under license to BioMed Central Ltd. This is an Open Access article distributed under the terms of the Creative Commons Attribution License (http://creativecommons.org/licenses/by/2.0), which permits unrestricted use, distribution, and reproduction in any medium, provided the original work is properly cited.