Does visual feedback during walking result in similar improvements in trunk control for young and older healthy adults?
Journal of NeuroEngineering and Rehabilitation
2013
10:110
Received: 7 December 2012
Accepted: 19 November 2013
Published: 26 November 2013
Abstract
Background
Most current applications of visual feedback to improve postural control are limited to a fixed base of support and produce mixed results regarding improved postural control and transfer to functional tasks. Currently there are few options available to provide visual feedback regarding trunk motion while walking. We have developed a low cost platform to provide visual feedback of trunk motion during walking. Here we investigated whether augmented visual position feedback would reduce trunk movement variability in both young and older healthy adults.
Methods
The subjects who participated were 10 young and 10 older adults. Subjects walked on a treadmill under conditions of visual position feedback and no feedback. The visual feedback consisted of anterior-posterior (AP) and medial-lateral (ML) position of the subject's trunk during treadmill walking. Fourier transforms of the AP and ML trunk kinematics were used to calculate power spectral densities which were integrated as frequency bins "below the gait cycle" and "gait cycle and above" for analysis purposes.
Results
Visual feedback reduced movement power at very low frequencies for lumbar and neck translation but not trunk angle in both age groups. At very low frequencies of body movement, older adults had equivalent levels of movement variability with feedback as young adults without feedback. Lower variability was specific to translational (not angular) trunk movement. Visual feedback did not affect any of the measured lower extremity gait pattern characteristics of either group, suggesting that changes were not invoked by a different gait pattern.
Conclusions
Reduced translational variability while walking on the treadmill reflects more precise control maintaining a central position on the treadmill. Such feedback may provide an important technique to augment rehabilitation to minimize body translation while walking. Individuals with poor balance during walking may benefit from this type of training to enhance path consistency during over-ground locomotion.
Keywords
Visual feedbackWalkingBalance
Background
Older adults and some patient populations are at increased risk of falling, with a high probability of those falls resulting in injuries [1, 2]. Falls and fall related injuries negatively impact the ability of older individuals to perform daily tasks [3], and substantially impact health care costs. Less easily quantified, but arguably more important, is the reduced quality of life from fall related injuries: disability, dependence on others, lost time from work or household duties [4], and self-restricted social interactions due to fear of falling [5]. It is essential to identify affordable solutions to this growing medical, social, and economic problem that are easily accessible to a large segment of the aging population. Most falls occur during dynamic activities like walking or transitions from sitting/standing to walking [2, 6, 7], yet most visual biofeedback for postural control is provided during standing [8–13]. Here we propose a device that has the potential to improve balance through visual feedback of self-motion during walking.
During walking, excessive body/trunk motion has been related to instability in older individuals and individuals with balance disorders [14–16]. Measures of trunk movement during locomotion have been used to identify older individuals with balance problems from individuals without balance problems [17, 18]. ML center of mass (COM) displacement during walking increased with age, even when adjusted for stride velocity [19]. Individuals with unilateral and bilateral vestibular loss have demonstrated impaired path consistency for goal directed walking [20, 21]. It has recently been suggested that responses of trunk translation through space versus orientation of the trunk to vertical in response to visual stimulation reflect different roles (i.e., navigation versus upright stability) of vision during walking [22]. Such findings suggest that the application of position feedback could reduce COM path deviations in older adults.
Several studies have examined the benefit of visual feedback, usually center of pressure (COP) position feedback during standing, with mixed results regarding improved standing postural control and limited transfer to walking [8–13]. Visual feedback reduced sway in both healthy controls and individuals with Parkinson's disease [10]. COP visual biofeedback training combined with traditional physical therapy did not enhance the effects of traditional physical therapy for individuals recovering from an acute stroke [23]. Stance symmetry feedback improved standing symmetry, but did not enhance recovery of a symmetrical walking pattern [12]. Visual feedback paradigms emphasizing weight shifting demonstrated more consistent carryover from standing to walking, possibly related to the shared dynamic weight shifting component required for both obstacle avoidance and walking [24]. Balance strategies during walking are not the same as standing [25]; therefore, providing visual feedback during walking (compared to standing) may be more effective for improving balance during walking [26, 27].
The use of treadmills in rehabilitation, to normalize a walking pattern is supported by only minor differences in electromyographic, kinematic, and force between over-ground and treadmill walking [28–31]. Despite this, there are only a few reports on the use of augmented visual feedback during treadmill walking; most have not provided visual feedback to improve control of trunk motion, rather the goal was to improve foot placement or improve use of a robotic assistive device for walking [32, 33]. Verhoeff et al (2009) provided multisensory (visual, vibratory, and auditory) cues signaling excessive trunk tilt during over-ground walking; however, no directionally specific trunk sway information was provided by the visual cues [34]. Due to the multisensory nature of the feedback in that study, it is unclear the specific role that visual feedback played in reducing trunk motion during walking. A case report described improvement in frontal plane gait mechanics after three weeks of training using real time visual feedback, verbal cues, and virtual reality for an individual with a transfemoral amputation [26]. The expense of the virtual reality systems such as that used in this case study would be prohibitive for most clinics and hospitals, a limitation to its broad application. Moreover, the improvement in frontal plane gait mechanics may not be solely attributable to the visual feedback.
Here we implemented a novel affordable approach to determine 1) whether augmented visual position feedback provided during treadmill walking would reduce AP and ML trunk motion variability during walking and 2) age related differences in ability to use feedback. Understanding how visual feedback influences body motion will provide insight regarding rehabilitation options for visual feedback to improve control of body movements during walking.
Results
Figure
3
shows an exemplar PSD function of the lumbar marker in the FB and NFB conditions for one trial of a single older adult subject. The first peak at approximately 1 Hz represents the average gait cycle frequency and the width of the peak at the base indicates the stride to stride variability of the gait cycle frequency. Subsequent peaks are harmonics of the gait cycle frequency. Differences in spectral power were observed between FB and NFB conditions below the gait cycle frequency (≤ 0.7 Hz), described in detail below. In contrast, spectral power was not significantly different at or above the gait cycle frequency, emphasizing that FB influenced body position only for very slow body movements.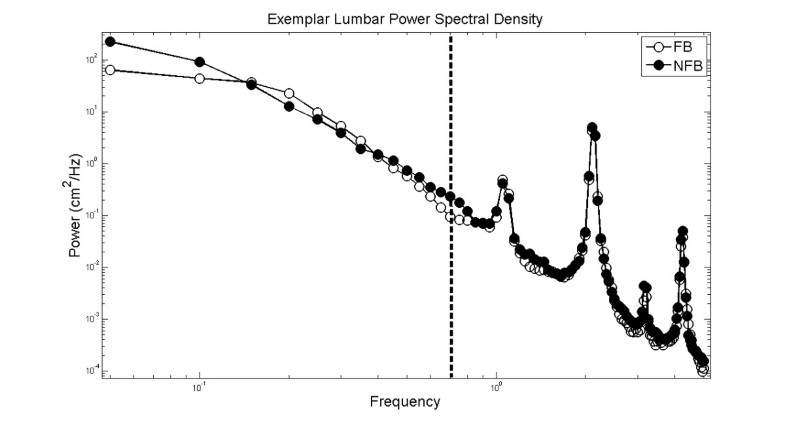 Kinematic variance
Figure
4
displays position variance up to 7 Hz. The main findings for low frequency position variance were: 1) There was a significant age difference for translation but not orientation responses regardless of visual FB condition, supported by an interaction between age and kinematics (p < .0001); 2) The older adults had significantly greater variance in both the AP and ML directions regardless of FB condition, supported by an interaction between age and response direction (p < .05); 3) Visual feedback significantly reduced movement variance regardless of age for translation, but not orientation, supported by a significant interaction between Kinematics and FB (p < .0001), with no significant three- or four-way interactions including age; 4) Visual FB reduced AP position variance significantly more than ML position variance regardless of age, supported by an interaction between Direction and Feedback (p < .01).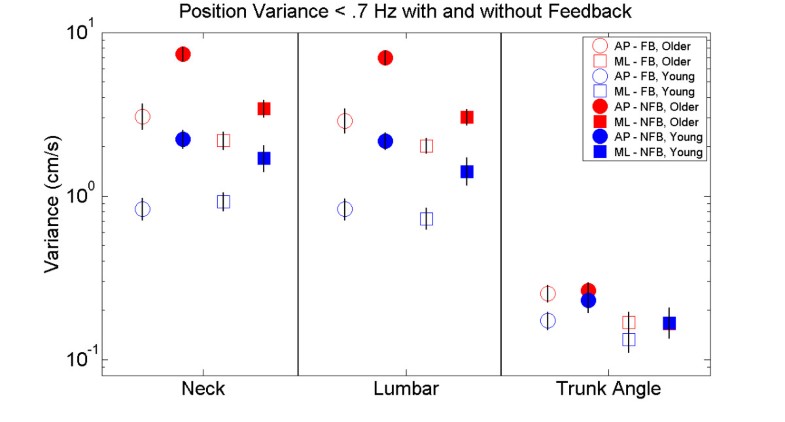 Overall, responses of young adults to visual FB differed from that of older adults in the following ways: 1) Visual FB reduced trunk angle variance from NFB to FB for young adults (p < .05), only in the AP direction.
General gait measures
Neither older nor younger adults displayed within age group differences across FB conditions for any gait parameters after post-hoc Bonferoni corrections for multiple tests. Older adults demonstrated significantly higher gait frequency (p < .05) compared to the young adults. Older adults also demonstrated significantly higher variability in stride time, stance time, and percentage of time in stance than younger adults (p < .05). Average gait parameters are presented by age and FB condition in Table
1
.
Table 1
General gait parameters for feedback and no-feedback conditions
Older adults

Young adults

Gait parameter

FB

NFB

NFB

FB

Stride time (s)*

0.96

0.98

1.05

1.03

CV*

.02

.01

.01

.01

Gait frequency (Hz)*

1.05

1.02

.956

.973

Stride length (m)

1.35

1.39

1.42

1.39

CV

.02

.02

.01

.01

Stance time (s)

0.62

0.63

.654

.642

CV*

.02

.02

.01

.01

Stance (%)

64.3

64.4

62.3

62.2

CV*

.02

.01

.01

.01
Discussion
The novel approach in this experiment demonstrated that concurrent augmented visual position FB provided during treadmill walking minimized trunk translation. Reduced trunk translation was specific to low frequencies of trunk movement, with translational (not angular) movements, but without changing the characteristics of gait. Our results have implications as a potential rehabilitation method for those with impaired control of trunk movement during locomotion.
The primary reduction in trunk movement variance was observed at low frequencies of body movement, well below the frequency of the gait cycle (≈ 1 Hz). A number of factors favor such low frequency adjustments. First, frequencies of body movement up to .7 Hz contain significant power during standing posture and locomotion (during locomotion the percentage of total power was 38% for trunk angle and 77% for trunk translation). These relatively large, slow movements of the body are amenable to visual control: they are easier to detect visually than smaller movements, vision is known to have slower processing loops than modalities like proprioception [41], and vision is known to influence low frequency movement during standing [42]. Furthermore, the visual feedback presented here required voluntary adjustments, which necessitates slower processing than reflexive adjustments.
Reduction in very low frequency translational movements while walking on the treadmill minimized trunk translation while walking on the treadmill. The functional correlate of reduced body translation during walking is enhanced path consistency. Clinical tests for dynamic walking balance include assessments of path deviation, a difficult task for individuals with impaired balance [43]. The older adults were able to reduce their low frequency trunk translation variability during walking with visual FB, displaying similar or lower variability than young adults without visual FB. The lack of significant change in the ML direction for the young adults with respect to neck translation is likely due to the lower variance for neck ML translation compared to that of older adults. This is consistent with previous reports that older adults present with increased COM displacement in the ML direction while walking [17–19]. The reduction in ML COM translation variability suggests a specific rehabilitation avenue for older individuals and individuals with balance disorders to improve control of body movement during walking. The reduction in ML COM translation variability may be interpreted as an increase in path consistency.
There was a significant reduction in low frequency AP translation variability of the lumbar and neck regardless of age. This corresponds to less drift in the AP direction while walking on a treadmill. The functional relevance of this is unclear as the implicit task for treadmill walking is to not "walk off" [44], which can be accomplished in multiple locations on the treadmill. This illustrates a primary difference between using AP COM translation during treadmill and over-ground walking. AP COM translation during over-ground walking defines the forward path, but on a treadmill is only task relevant at the extreme edges. Reduction in movement variance from visual FB was found for trunk translation in both young and older adults. In contrast, the young adults showed a small but significant reduction in low frequency AP trunk orientation movements, with no effect observed for trunk angle in older adults (see Figure 4). The response specificity observed for older adults to position visual FB during walking may have implications for rehabilitation. In response to multi-modal biofeedback of their trunk angle sway older adults were able to reduce ML trunk angle sway during walking [45]. Providing visual feedback specifically related to the rehabilitation movement goals (i.e. trunk translation versus trunk orientation) may result in greater benefit and functional carryover.
Visual FB presented in this way may be able to reduce age or pathology associated increases in translation of the COM during walking [18, 19, 46]. The translation-specific response to augmented visual FB seen in older adults in this study may provide some insight regarding the mixed effects to visual feedback previously reported [8, 11, 47]. During walking, translation and orientation of the trunk serve the roles of navigation and upright stability, respectively. Since navigation is not relevant for standing, such separation of function does not apply to standing sway [22]. Thus, it may be inappropriate to provide COM translation FB if the goal is to reduce trunk deviations from vertical while walking. Visual feedback training for path consistency during walking may be more amenable to COM translation FB training.
Finally, an argument could be made that the presence of visual feedback induced a change in control of walking as there is significant literature reporting the influence of vision on gait [48, 49]. The lack of difference on the measured gait parameters between feedback conditions demonstrates that average spatial/temporal aspects of walking were unchanged, despite reduced AP and ML trunk translation in space. This is consistent with the idea that cyclic behavior of the legs, path consistency and upright orientation are separate tasks during walking [7, 27, 50], and demonstrates that path consistency can be modified independent of changes to the average walking pattern. The implication for rehabilitation is that isolated functional impairments in COM translation control may be effectively improved during walking using concurrent visual FB.
This study demonstrated that healthy young and older adults were able to effectively use visual feedback to reduce low frequency trunk translation while walking on a treadmill. A potential advantage of visual feedback provided during treadmill walking versus standing is the more dynamic component of the walking activity. The current results provide proof of concept for a low cost device that provides visual position feedback during walking to minimize excessive body movements. Whether this method of training will improve over-ground walking remains to be seen and is currently under investigation. Such low frequencies of body sway contain the majority of spectral power for standing posture, suggesting that the changes observed may be related to the control of balance during walking. The response-specific nature of this visual feedback may also enable greater carryover to functional mobility. Further research in this area is needed to determine whether other aspects of body movement during walking can be influenced with different types of feedback and to determine whether beneficial carry over effects exist for over-ground walking.
Conclusion
Visual position feedback provided during treadmill walking minimized trunk motion specific to the nature of the feedback. The response specific effect of the visual feedback indicates that for healthy adults the different aspects of body control during walking (trunk translation vs. trunk orientation) [22], do not respond similarly to the same visual feedback. This suggests that just as different mechanisms are responsible for control of standing and walking balance [7], different mechanisms also underlie control of the upright orientation versus translation of the body during walking. Rehabilitation of balance during locomotion may benefit from provision of specific sensory feedback tailored to these mechanisms.
Abbreviations
COP:

Center of pressure
COM:

Center of mass
AP:

Anterior-posterior
ML:

Medio-lateral
PSD:

Power spectral density
Hz:

Hertz
FB:

Feedback
NFB:

No feedback.
Declarations
Acknowledgement
This study was supported in part by a scholarship from the Foundation for Physical Therapy, Inc. to Eric Anson. This study was supported in part by NSF grant BCS 0924883, J. Jeka & T. Kiemel, PI's. The study sponsors had no role in any aspect of the experiment from design to manuscript writing.
Authors' Affiliations
(1)
Department of Kinesiology, University of Maryland, College Park, USA
(2)
Bioengineering Graduate Program, University of Maryland, College Park, USA
(3)
Neuroscience and Cognitive Science Graduate Program, University of Maryland, College ParkCollege Station, USAUSA
(4)
Department of Kinesiology, University of Maryland, CCollege ParkPhiladelphia, USAUSA
Copyright
© Anson et al.; licensee BioMed Central Ltd. 2013
This article is published under license to BioMed Central Ltd. This is an open access article distributed under the terms of the Creative Commons Attribution License (http://creativecommons.org/licenses/by/2.0), which permits unrestricted use, distribution, and reproduction in any medium, provided the original work is properly cited.